Vision Super Heavy Duty Power Chair
A heavy duty power wheelchair with an ultra-durable design and an option for a power elevating seat that will raise the user up to 10".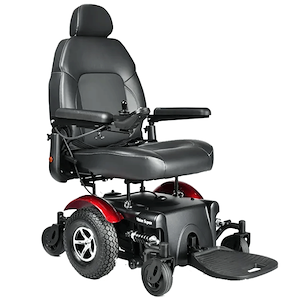 More Information on the Vision Super Heavy Duty Power Chair
BACK TO TOP
Reviews
Viewing 1 - 7 of 7
Was told that the joystick would swing away. It doesn't as...
10/02/2022
Strengths:
Its lift ability. The ease of the joystick. Small turning space. Its quietness in lifting.
Weaknesses:
It's a little high. Wouldn't be a problem if I could scoot back in the seat, but because of the rougher square at the back of the seat it's very difficult. I still manage with a little effort.
Reviewer:
peggy r. from franklin, tn
User Details:
I am 76 yrs and have difficulty reaching higher counters and sinks. I have severe arthritis and can't stand for very long. Have to sit to work.
07/06/2022
Strengths:
The rider has more mobility to go places on their own independently.
Reviewer:
rhonda c. from atlanta, ga (caregiver)
User Details:
Not provided
05/25/2022
Weaknesses:
chair is 27 inches at lowest point
Reviewer:
john m. from broken bow, ok
User Details:
Not provided
Very good product but design needs to allow for more...
01/21/2021
Strengths:
The chair appears to be well made and durable. I love the power lift. I can do so many more things now that I reach so many more places. It is worth the additional cost. Using the joystick definitely takes a little practice, but once I got used to it, I was amazed at the maneuverability. The turn radius is great in tight spaces.
Weaknesses:
I wish the seat could be lowered. I am 5'8", which is not that tall, and I cannot just sit down and be fully to the back of the seat. I am seated only on the front of the seat and need to use my arms to lift myself back in the chair. That is not easy for me. The footplate also needs to be adjustable (raised or lowered) versus just angle.
Reviewer:
sandra s. from normal, il
User Details:
I am 62 and have MS and bad knees. I struggle with my balance along with extreme weakness in my arms and legs and cannot stand more than a few minutes
10/26/2020
Strengths:
well built, adaptable, performs as advertised
Weaknesses:
Seat needs to be able to go to the lowest point in the rack ( lowest point on the chair). More attention should be applied to the off board chargers. I had to go through 3 before they found one that worked, and it is an older charger that I don't have much faith in. A current charger would be a feelgood for me.
Reviewer:
john h. from port wentworth, ga (caregiver)
User Details:
She is 78 years old, currently has problems trying to stand up due to an very inv asive infection. It has also affected her vision.
05/09/2019
Reviewer:
david m. from rawlins, wy
User Details:
Not provided
03/29/2017
Weaknesses:
Almost too big
Reviewer:
bob g. from branson, mo
User Details:
Not provided