Quickie 5R
Ultra-adjustable rigid wheelchair takes customizing your mobility needs to the next level.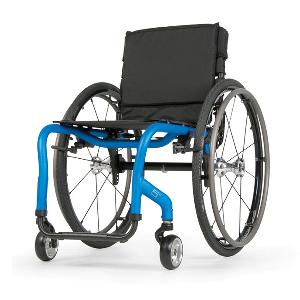 Sunrise / Quickie
(Model No. EIR10)
VIEW ITEM
More Information on the Quickie 5R
BACK TO TOP
Reviews
Viewing 1 - 4 of 4
User loves it, says it's a great chair and is very happy...
12/13/2019
Reviewer:
annette y. from oakdale, la (caregiver)
User Details:
User is paraplegic.
This wheelchair exceptionally perfect, 100% satisfied.
11/24/2019
Weaknesses:
Front wheels are so small.
Reviewer:
aden a. from saint cloud, mn
User Details:
I am a person with disability, daily user of the wheelchair.
Moderately pleased with the product.
09/24/2017
Strengths:
Compact, easy to transport, sturdy.
Weaknesses:
Seat material is coming unraveled only after 4 weeks of use, release pins that hold the position of the back rest constantly get stuck and requires tools/force to unstick in order to fold the chair for transport. Front of seat is starting to sag.
Reviewer:
dustin w. from southport, nc
User Details:
Paraplegic, no function from the chest down. Pushes forward to maximize potential and capability.
04/02/2017
Strengths:
stable, tracks well, feels solid as a rock
Weaknesses:
the inset of the hangers
Reviewer:
tom g. from conconully, wa
User Details:
I love this chair. it feels so stable and secure. roles and tracks very well. i am 69 and I've been using a chair since I was 25 and this is the best