Supernal Hi-Low Bed
High-end features, complete adjustability and hi-low ability ensure a great night's sleep.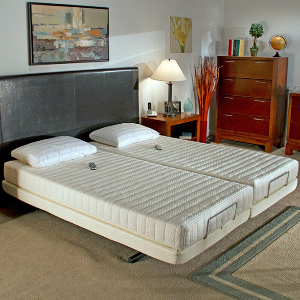 More Information on the Supernal Hi-Low Bed
BACK TO TOP
Reviews
Viewing 1 - 12 of 12
Helps Maintain Independence
09/03/2023
Strengths:
Being able to adjust the height of the bed to the floor is a game-changer for me. I adjust it high to step off the bed without having to use my weak leg. I adjust it lower to get into bed with ease. The rails help me move around in bed and get to a sitting position. The bed is easy to adjust, very quiet, and the mattress has good strong edges for transferring in and out of a wheelchair.
Weaknesses:
None really…however, one suggestion. The bed should have an automatic stop when being lowered down to the floor in case an animal or small child is underneath and not visible.
Reviewer:
denise f. from chantilly, va
User Details:
68 year old woman with Multiple Sclerosis and right side weakness - wheelchair user who can stand to transfer.
It made getting into bed much easier. I do not care for the...
01/02/2021
Reviewer:
eva d. from sierra vista, az
User Details:
My name is Eva and I am 70 years old/young. I have neuropathy in my feet and osteoarthritis in both knees. I had both of my knees replaced.
Makes wheelchair/bed transfers much safer.
09/25/2020
Strengths:
Good range of height adjustment to allow transfer to a lower level both in and out of bed. Looks like our previous split king bed after we added a bed skirt so it doesn't look like a hospital bed.
Weaknesses:
The motor is noisier than my old adjustable bed which is not good when I have to get up in the middle of the night. The mattress is not the most comfortable but the extra firmness does make moving about somewhat easier.
Reviewer:
roy b. from raleigh, nc
User Details:
I am a 79 year old male with a T6/T7 spinal cord injury and in a manual wheelchair full time.
Great bed for anyone with medical issues or others who just...
07/30/2020
Strengths:
The strengths are the full adjustability, especially the hi-lo feature. It aids in getting in or out of bed. I find being able to raise the bed up higher helps with making the bed in the morning; it's puts less strain on my back.
Weaknesses:
The full size width is an inch narrower than standard full size mattresses making it difficult to keep sheets tucked in. I bought a foam bolster to keep my mattress from sliding around.
Reviewer:
teresa h. from harvest, al
User Details:
Sixty-five year old person with arthritic joints, 2 total knee replacements, and spinal fusion.
03/29/2020
Strengths:
Able to adjust height.
Reviewer:
modestina a. from ridge, ny (caregiver)
User Details:
I'm a caregiver taking care of my mom who had a stroke. This bed makes thing so much easier for us both with all its adjustments. We love this bed.
Allows me to get sleep on a bed after 4 years in a recliner!
10/26/2019
Strengths:
Ability to allow me to get up and down pretty easily.
Weaknesses:
None that I have found so far
Reviewer:
stephanie l. from pawleys island, sc
User Details:
I am 68 years old and after three hip surgeries and horrible pain I needed to find a bed that would help me get up and down! This bed is perfect!
Good bed for disabled or older people who need help getting...
06/16/2018
Strengths:
All the ways that the bed is adjustable makes it so much easier to help a disabled person get in and out of bed. The positions that can be made also help a person get in a healthy sleep position, such as getting the feet up to keep swelling down. With the height adjustment and width of a twin bed I don't have to worry about my husband falling out of bed.
Weaknesses:
Mattress is a little thin and a little to hard, but still we both are sleeping fairly well.
Reviewer:
teresa h. from harvest, al (caregiver)
User Details:
I actually am caregiver and a user. I purchased two twin size beds, one for my husband who has been disabled by a stroke, the other for myself.
Multifunction bed helps the person sleeping in it and those...
05/13/2018
Strengths:
Does what a hospital bed does, but doesn't look like one.
Weaknesses:
The mattress could be thicker and more comfortable.
Reviewer:
fred f. from new york, ny (caregiver)
User Details:
Good bed for my 92-year-old dad. Looks like a regular bed, but head/foot of the bed move and the whole bed goes up and down. Mattress is a bit firm.
The hi-low features allow my mom to independently get in...
09/22/2017
Strengths:
The bed electronically lowers enough for a very short person to sit in and then raises high enough to allow gravity to help get out.
Weaknesses:
The remote control is not attached by a cord so we had to rig that feature ourself.
Reviewer:
janice c. from heath, oh (caregiver)
User Details:
90 year old woman with arthritis.
Supernal Hi-Low Bed: Review
08/11/2017
Strengths:
I love this bed.
Weaknesses:
The railing position needs more places to hook the railing to.
Reviewer:
mariam a. from anaheim, ca
User Details:
I have back and balance problem, need a bed with height adjustments. Plus head and leg too. This bed offers all of them.
Just what we needed - the hi lo function is a lifesaver for...
06/23/2017
Strengths:
Hi lo function!
Weaknesses:
The rails need multiple settings.
Reviewer:
catt m. from murphy, tx (caregiver)
User Details:
72 year old male with partial paralysis due to multiple burst vertebrae.
This bed is great, adjustable up and down, great for seniors
04/17/2017
Reviewer:
barbara k. from albuquerque, nm
User Details:
Hi, we purchased a bed for a 93 year old male. We are extremely happy with the bed. It works great and is perfect for him and very helpful.
Popular Related Products