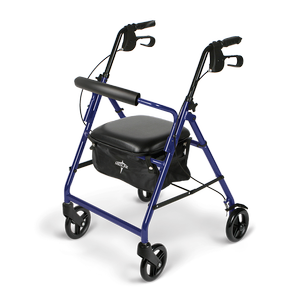 More Information on the Basic Rollator
BACK TO TOP
Reviews
Viewing 1 - 8 of 8
I visited the Grand Canyon last week. I could not have...
10/08/2022
Strengths:
Ease of assembly, ease of use, ease of adjustment of height.
Reviewer:
donald w. from wilmington, de
User Details:
I am almost 84 years old, male, in overall good health but do have issues with distance walking.
06/16/2021
Reviewer:
john s. from lenexa, ks (caregiver)
User Details:
Not provided
07/21/2019
Strengths:
Good brakes. Easy to assemble and use.
Weaknesses:
I don't use the storage compartment because it is hard to get to.
Reviewer:
marion h. from chicago, il
User Details:
I am a 72 y.o. user of the basic rollator. I have Ataxia or spinocerebellar ataxia type 6, have a lot of trouble walking, and occasionally fall.
08/19/2018
Reviewer:
estelle g. from stevenson ranch, ca
User Details:
Love my Rollator. So much better than the 2 wheel walker given at the hospital. Easy to use and steer. I highly recommend it anyone having trouble.
It is exactly what I needed.
05/21/2016
Strengths:
Light weight and ease of storing in the trunk.
Weaknesses:
It comes equipped with 6 inch wheels. I would prefer the larger wheels. You would not upset me if you added a cup holder.
Reviewer:
george g. from lompoc, ca
User Details:
I am a male, 86 in June, who purchased the rollator hoping to motivate me to walk more, since I have back problems and weak legs.
Great for short distances esp. In the house
12/12/2015
Strengths:
Light, easy maneuverability, doesnt take up a lot of room we have a big rollator for times that my husband needs to sit for periods of time however that one can be bulky inside our small house. We leave the big one in the car for outside or longer trips and use this one in the house for getting to bathroom etc.
Weaknesses:
None -works well for heavier people for times when space is a concern. Good additional rollator for us. Different equipment for different situations can be very handy.
Reviewer:
beverly a. from davidson, nc (caregiver)
User Details:
76 yrs bad degenerative arthritis in back 275 lbs.who needs to sit when walking longer distances but can go short distances without sitting
03/23/2015
Strengths:
Easy to assemble, exactly what I needed to get around and easy to push.
Reviewer:
debi m. from le sueur, mn
Great product for the price
12/18/2014
Strengths:
Sturdy and easy to fold and take anywhere
Weaknesses:
Cannot extend the handles to accommodate his height
Reviewer:
dianna y. from antioch, tn (caregiver)
User Details:
My husband has MS and has gone down quickly over the last year and after the last nasty fall, his neurologist insisted he go with a walker exclusively
Popular Related Products