TiLite TRA
Dual-tube framing and titanium tubing give you an extremely lightweight wheelchair with plenty of adjustability, but excellent rigidity.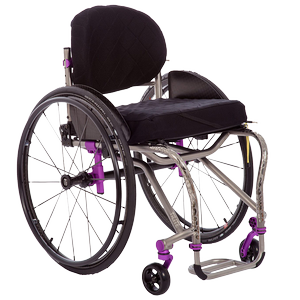 More Information on the TiLite TRA
BACK TO TOP
Reviews
Viewing 1 - 3 of 3
This chair has great features, is easy to use, and is very...
12/10/2020
Strengths:
It's light enough that I can lift it, the locking backrest is super helpful for me, and I love the color options. I got a flip-up footrest to help me transfer easier since I stand to transfer, and a solid seat pan to last me longer. It's a really nice smooth ride, and I'm comfortable during the whole day even though my hips dislocate when I sit normally. (I got a Jay 3 cushion with gel, I love it) I love the color, and I get compliments on how sleek and pretty it is!
Weaknesses:
The scissor locks are almost impossible for me to open with my hands, since I have little mobility or strength in them. I probably haven't locked them more than 5 times, I just transfer with them unlocked and hope it doesn't roll away, haha. Also, the camber that I picked (4°) seems to make the wheels touch the side guards slightly, so sometimes they make noise. I'm sure that's something I could adjust, but I can't get any of the screws off since they were put on in a factory and again, weak hands.
Reviewer:
casey jack c. from winnetka, ca
User Details:
I'm 25 and chronically ill, so I use my chair about 2/3rds of the time.
02/15/2019
Strengths:
Awesome chair! Looks great and amazing performance!
Reviewer:
curtis l. from ryegate, mt
User Details:
So far a great chair! Very helpful ordering and keeping me informed of my purchases. Will update more later.
02/24/2017
Strengths:
Weight and size.
Reviewer:
christine b. from indianapolis, in
User Details:
29 year old T5 complete paraplegic.