Go Go ES2 3-Wheel Scooter
An inexpensive scooter with a lightweight one-piece frame that's ideal for a day out.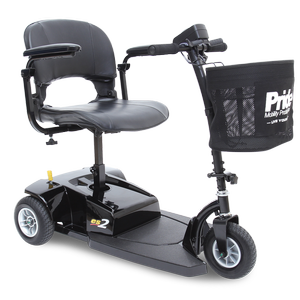 More Information on the Go Go ES2 3-Wheel Scooter
BACK TO TOP
Reviews
Viewing 1 - 12 of 34
It would be much better if the seat swiveled to the side.
03/28/2019
Strengths:
Very easy to drive And maneuver.
Weaknesses:
A bit difficult to get in with the chair seat forward.
Reviewer:
mark m. from st. louis, mo (caregiver)
User Details:
It was supposed to be used to get around and just explore a little bit, but she has difficulty getting in it.
good product not outstanding but good .
10/18/2018
Weaknesses:
seat to hard. seat needs to be back over wheels. breaks do not work good enough. takes too long to apply after releasing lever.
Reviewer:
carson g. from paducah, ky
User Details:
79 year old male. knees bad I can only take 4 or 5 steeps.
Very tippy and cheaply made. Have only used once.
07/05/2017
Strengths:
Disassembles easily.
Weaknesses:
Too lightly built for a tall person. Only usable on flat, paved surface, tips very easily.
Reviewer:
kay f. from omak, wa (caregiver)
User Details:
Balance problem and dementia.
Go-Go ES2 3-Wheel Scooter: Review
05/24/2017
Weaknesses:
power outlet awkward - should be near handle, not at bottom
Reviewer:
chester c. from tucson, az
User Details:
75 male partially disabled
The scooter seemed good at first but it quit working after...
10/10/2015
Strengths:
The small size is nice; it is easy to maneuver in a small apartment.
Weaknesses:
Very poor service. The scooter worked for three weeks and quit and needed a new motor and another part. Parts were unavailable as they were on back order with no delivery date estimated. The manufacturer was not willing to do much until we became very aggressive after more than a month without the scooter. A new scooter was finally sent as a replacement. SpinLife customer service was helpful, but they were unable to get a resolution sooner.
Reviewer:
maureen a. from greeley, co (caregiver)
User Details:
91 year old man who has very bad knees and has had serious health issues.
A seat that swivels would make this a much better scooter.
10/09/2015
Strengths:
It is lightweight with a simple control panel and is great for use around the house.
Weaknesses:
There is no swivel seat only and only three wheels make for decreased stability.
Reviewer:
james d. from denver, co
User Details:
68 year old male and stroke victim with mobility issues.
Will not operate on slight inclines and tilts over easily.
09/17/2015
Strengths:
Not too heavy if the seat and arms are removed.
Weaknesses:
Will not operate at times and tilts easily where I have been injured twice. Tilted over in the street while trying to get on the sidewalk, where cars had to stop and one woman had to get out of her car and help my husband get me up.
Reviewer:
jacqueline m. from piedmont, sc
User Details:
I have Multiple Sclerosis and breast cancer. I am totally disabled and wanted a scooter so I could get around without much assistance
This is a nice, not-too-expensive, lightweight scooter;...
09/16/2015
Strengths:
Lightweight- husband lifts it up into van comfortable - although seat is thinner than my previous Walgreens scooter; not too expensive; looks good
Weaknesses:
The only weakness for me is the position of the hand accelerators in front of the dash, which is dangerous in my kitchen when I open drawers and they get stuck on the drawer and accelerate out of control.
Reviewer:
deanna b. from two rivers, wi
User Details:
52-year-old, 200-pound woman with multiple sclerosis using scooter every day inside and outside.
The scooter is the best thing I ever purchased
09/13/2015
Reviewer:
ruth h. from jacksonville, fl
User Details:
I am 85 years old and have a prothesis on my left leg. The scooter helps me get around.
Light and fits in the trunk
09/03/2015
Weaknesses:
Not sure about the three wheels, but no problems thus far
Reviewer:
thomas b. from huntington beach, ca
User Details:
78 year old male. Bad knees and multiple heart problems.
08/23/2015
Strengths:
The ease of being able to adjust seat & handle bar.
Reviewer:
carole j. from yakima, wa
User Details:
I am 75 years young & love the scooter.
Need the charging cord to release after charging.
08/19/2015
Strengths:
I use it in doors only
Weaknesses:
The charging cord
Reviewer:
patricia b. from eugene, or
User Details:
When it comes to charging the scooter, it is VERY difficult to unplug the charging cord.
Popular Related Products