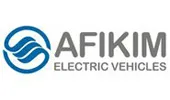 SpinLife® is the largest retailer of Afikim® products.
What Makes Afikim Different?
For over 35 years, Afikim has created popular and well-known scooters throughout Europe and Australia. They manufacture top-of-the-line luxury scooters with European design, safety standards and craftsmanship. Afikim scooters come standard with a full LED lighting package, which dims the lights when at a standstill to preserve energy to allow a longer travel range on each battery charge. Afikim uses modern design and technological innovation to craft high-end scooters with drivers safety in mind.