SE
With an impressive 45" turning radius and large pneumatic tires, this scooter is great for virtually any environment.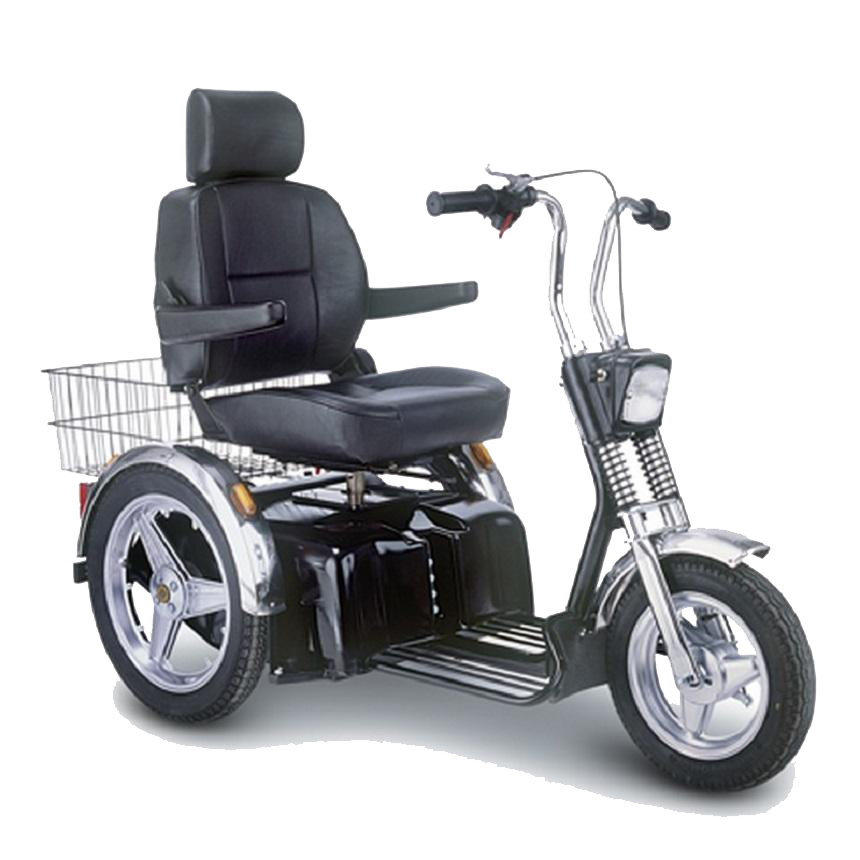 SE
With an impressive 45" turning radius and large pneumatic tires, this scooter is great for virtually any environment.
NEED HELP OR ADVICE?
Our Product Experts are here for you
1-800-850-0335
The SpinLife Difference Includes:
FREE Shipping
Charger
FREE Rear Basket
12" Pneumatic Rear Wheels
Front Wheel Emergency Brake
Lifetime Limited Warranty
White Glove Available
In-Home Service
SHIPPING INFORMATION
Leaves Warehouse In:
1-3 business days lead time
Details
Ground Shipping:
FREE for orders over $50!
Expedited Shipping:
2nd Day: $0.00
Overnight: $0.00

OVERVIEW
Features
Flip-up arms and rotating seat for ease of getting on and off
Wide wheelbase for maximum stability
Full lighting package is standard
Visible battery indicator and removable ignition key
Adjustable armrests
Solid, large rear basket
Key Specs
Drive Range: up to 28 miles
Max Speed: 9.30 mph
Weight capacity: 500 lbs.
Weight: 297 lbs.
View all specs
Manuals, Literature & Videos
Overview
Afikim's SE has all of the conveniences of a mobility scooter with the added style and features of a motorcycle. It features a large 10" front pneumatic tire and 12" rear pneumatic tires for a smooth ride along with adjustable suspension and shock absorbers. The SE is easy to operate and is great for all terrains.

What Makes It Different

This scooter's appearance is very different from other scooters. The black and chrome details give it a sleek and sporty feel. The scooter doesn't have your standard control panel - the controls are located on the handlebar and are extremely easy to use. It has a finger-tip speed control with forward and reverse buttons and when you release the lever, the SE automatically comes to a comfortable stop and applies the parking brake. The independent handlebars are also height and angle adjustable. The seat is a roomy 18" wide and you have the option of upgrading to 20", 22", 24" or dual-rider 33" seat widths for an additional charge.

Why We Like It
The 5" high ground clearance, all-terrain tires and tight turning radius allow this scooter to go anywhere you want to go. Although too large for most interiors, the SE is great for riding around your property, neighborhood, town, park or anywhere you need assistance. We like that one scooter can do all of that for you. The easy-to-operate controls are also a great feature and the 28 mile drive range will keep you going all day long.
NOTE: The SE is too big for use inside your home and because of its large size it cannot fit on any vehicle lift. This scooter is more of a personal mobility vehicle and is perfect if you live in a smaller town or retirement community.
It is important to note that the controls are very different on this scooter than others and you need to have good hand control to operate it.

What to Expect When Ordering
Curbside delivery is free. The SE ships via freight company and will arrive on a pallet - just cut off the shrink wrap and straps and put the seat on the scooter and it is ready to go. Batteries are already installed and charged. If you think you may need assistance with unpacking or assembling your new scooter, you may choose our White Glove Delivery to have it brought to your home and assembled by certified technicians.
Your new scooter purchase includes 24 months of free in-home service. You have the option to extend your service plan to 3 years for an additional charge. While you are covered by a service contract, if you experience a problem with your scooter, simply call SpinLife to arrange for a technician to come to your home for diagnosis and repair.

More Information on the SE
SPECS
Specs
Max Speed:
9.30 mph
Scooter Drive Range:
28.00 miles
Suspension:
Yes
Scooter Seat Width:
18"
22"
24"
33"
Delta Tiller:
No
Weight Capacity:
500 lbs
Turning Radius:
45"
Ground Clearance:
5.00"
Max Seat to Ground Height:
24.4"
Max Seat to Deck Height:
19"
Multiple Seating Options:
Yes
Height Adjustable Seat:
No
High-Back Seat:
Yes
Flip-Back Armrests:
Yes
Wheel Type:
Three Wheeled
Front Wheel Size:
10"
Rear Wheel Size:
12"
Air-Filled (Pneumatic) Tires:
Yes
Overall Width:
29"
Overall Length:
62"
Transportable/Collapsible:
No
Foldable:
No
Battery Type:
70 AH
Batteries Included:
Yes
Battery Charger Type:
Off Board
Larger Battery Option:
No
Drive Type:
Rear-Wheel Drive
One-Hand Operation:
No
Basket Included:
Yes
Headlight:
Yes
Extended Base:
No
Weight Without Batteries:
218.00 lbs.
Battery Pack Weight:
104.00 lbs.
Expedited Shipping Available:
Yes
Charging Port Location:
Battery Box
Approximate Shipping Dimensions and Weights
Product Weight:
297 lbs.
Box 1
Shipping Weight:
349.00 lbs.
Length:
67.00"
Width:
30.00"
Height:
42.00"
REVIEWS
SE Reviews
View All Reviews
100% of reviewers recommend this
These reviews are from SpinLife customers who have purchased and used the SE.
More Information on the SE
WARRANTY
Warranty Information
Afikim Electric Vehicles hereby warrants, guarantees and undertakes responsibility to replace free of charge defected part items material, found upon examination by an authorized representative of Afikim Electric Vehicle to be defective in material and/or workmanship according to the policy herby mentioned.
LIFETIME

For the Lifetime of the Product from the date of delivery, Afikim Electric Vehicles will replace free of charge, any of the following Metal parts: Main Frame, Seat Post & Tiller Metal Parts

TWO-YEAR WARRANTY

For two (2) years from the date of delivery, Afikim Electric Vehicles will replace free of charge, any of the following parts: Power Unit (Motor, Transaxle & EMB), Controller, Charger, Harnesses, Electronic sub-assemblies: Boards, Sensors, switches, Potentiometer, Fuses, Gas piston, Brakes
ONE-YEAR WARRANTY

For one (1) year from the date of delivery, Afikim Electric Vehicles will replace free of charge, any of the following parts: Bearings, Bushings, Shock absorbers, Seat
WARRANTY EXCLUSIONS

This warranty does not extend to items which may require replacement due to normal wear and tear such as: Plastic shrouds, Motor brushes, Brake Pads, Tires and tubes, Bulbs & Lights, Upholstery, Rust, noises and/or Circumstances beyond the control of Manufacturer.
More Information on the SE
RETURNS
Return Policy
This item may be returned within 30 days of receipt for a refund as long as the following conditions are met:
The item must be returned at the customer's expense in the original packaging.
The item must be in new condition--no cracks, scratches or dirty tires.
A Return Authorization must be requested from SpinLife within 30 days of delivery.
Once the Return Authorization has been received from SpinLife, the product must be returned within 14 days to receive a refund.
A 25% Restocking Fee is required to return this item.
Lift Chairs with upgraded fabrics and Heat and Massage options are non-returnable.
EWheels brand scooters require an outbound freight fee of $200.
If you have questions about this item please call a SpinLife Expert at 1-800-850-0335.
More Information on the SE