P Pod Postural Support
Your child's new favorite chair!
















Shown in Whale Blue
P Pod Postural Support
Your child's new favorite chair!
NEED HELP OR ADVICE?
Our Product Experts are here for you
1-800-850-0335
The SpinLife Difference Includes:
FREE Curbside Delivery
1 Year Warranty
SHIPPING INFORMATION
Available in:
Custom Built for You
Leaves Warehouse In:
Ground Shipping:
FREE for orders over $50!
Expedited Shipping:
2nd Day: $0.00
Overnight: $0.00

OVERVIEW
Features
Quilted stretch velour cover
Cover is easily removable and machine washable
Bean bag allows for wiggle room while maintaining support
Lightweight and easy to move
Overview
Fall in love with the P Pod from Inspired by Drive! Allow your little one to interact with friends and family in this fun beanbag-like chair. Sitting at couch height, your child can finally feel included while still having the postural support they need. Unlike traditional bean bag chairs, the P Pod was designed specifically for children with high-level postural needs and children that are taking a break from their wheelchair. This unique chair attracts the eye with its fun, vibrant colors, and captures the heart by allowing children with specific needs to participate in games with their friends and spend time with their families.
Why We Like It
Your P Pod features a bean bag base, bolster support, positioning pod with removable cover, a flip-up head rest, and pelvic support. You can accessorize your P Pod with handy features such as a freestanding tray, lap tray, activity frame, mobility base, and foot bolster so you can have everything you need for play time customized to your child! Let your child pick out their favorite color and let the fun begin with the P Pod!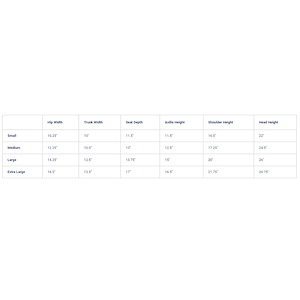 More Information on the P Pod Postural Support
SPECS
Specs
| | | | | | |
| --- | --- | --- | --- | --- | --- |
| | Large | Medium | Small | XL | XS |
| Product Weight: | 22 lbs | 22 lbs | 22 lbs | 22 lbs | 22 lbs |
Approximate Shipping Dimensions and Weights
Product Weight:
22.6 lbs.
Box 1
Shipping Weight:
36.30 lbs.
Length:
57.00"
Width:
47.00"
Height:
50.00"
REVIEWS
P Pod Postural Support Reviews
View All Reviews
100% of reviewers recommend this
These reviews are from SpinLife customers who have purchased and used the P Pod Postural Support.
More Information on the P Pod Postural Support
WARRANTY
Warranty Information
Inspired by Drive warrants this product to be free of defects in material and workmanship. Our obligation under this warranty is limited to repair or replacement of any part or entire unit at our option for a period of one year from date of delivery to the original purchaser. The warranty does not include cost of inconvenience, property damage, misuse, abuse, crash, or similar incidents. The warranty will not apply if product has been tampered with or repaired by unauthorized individuals.
More Information on the P Pod Postural Support
RETURNS
Return Policy
This item is non-returnable for one of the following reasons:
This item is custom-made by the manufacturer to suit your specific needs . Please review all specifications carefully before placing your order. Once production of your item has begun – the order is unable to be cancelled.
For hygienic safety and per FDA regulations this item is non-returnable, even if unused.
Once products are installed, the product is no longer returnable.
Please inspect your product upon delivery. If the product is damaged or is not the correct product, please refuse the delivery. If your item was delivered without a signature and is damaged or incorrect please call SpinLife Customer Service.
If you have questions about this item please call a SpinLife Expert at 1-800-850-0335.
More Information on the P Pod Postural Support