Pinnacle Premium Stair Lift
A great stairlift that only takes up 10.5" of your stairwell.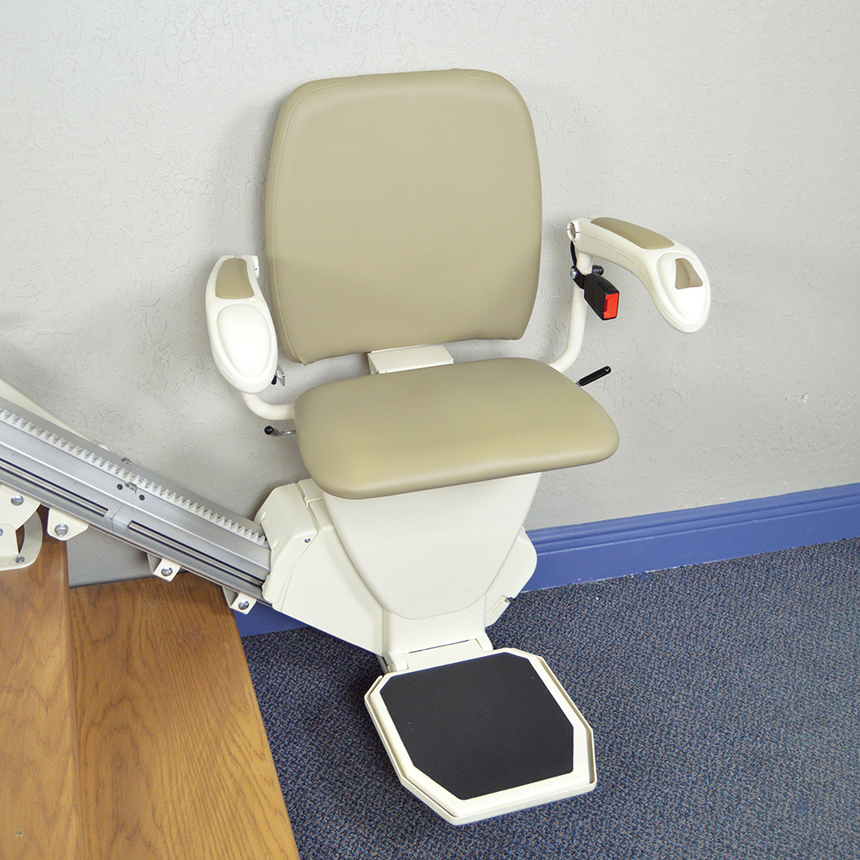 Pinnacle Premium Stair Lift
A great stairlift that only takes up 10.5" of your stairwell.
NEED HELP OR ADVICE?
Our Product Experts are here for you
1-800-850-0335
The SpinLife Difference Includes:
16' of Custom Track
Free Shipping
3 Year Limited Warranty
Made in the USA
SHIPPING INFORMATION
Leaves Warehouse In:
Ground Shipping:
FREE for orders over $50!
Expedited Shipping:
2nd Day: $0.00
Overnight: $0.00

OVERVIEW
Features
Narrowest stair lift at only 10.5"
350 and 600 pound capacity options
Up to 40 cycles per charge
Can be installed on either side of the staircase
Patented worm gear drive system
No grease or lubrication needed – low maintenance
Key Specs
Weight capacity: 350 lbs.
Weight: 235 lbs.
View all specs
Manuals, Literature & Videos
Overview
The Pinnacle is a great stairlift that only takes up 10.5" of stairwell space. A swivel seat at the upper landing makes for easy and safe entries and exits. The seat itself is upholstered with padding and a full-sized backrest with a retractable seat belt for security. The Pinnacle uses a helical worm gear drive system for a smooth and quiet ride. A nylon polymer gear rack means there is no need for grease or lubrication, so the lift is low maintenance and easy to clean.
What Makes It Different:
The Pinnacle has a long list of other differentiating features. Safety is a big feature for the Pinnacle. There are safety sensors in the footrest so that the chassis will stop the lift if it detects an obstruction. The controls are easy to operate and come with condition indicator lights.
Why We Like It
At a width of 10.5" with the seat folded up, the Pinnacle is the narrowest stairlift in the industry. You can have a stairlift and not lose over half your stairway to the lift. Despite this compact size the Pinnacle can accommodate a wide variety of body types. The weight capacity is 350 lbs. and the seat width is 19". The Helical Worm Gear and reinforced Nylon Polymer Gear Rack drive system eliminates maintenance, uses less electricity than other lifts and therefore saves on your energy bills.
What You Need To Know When Ordering
Please see the attached Pre-Install Survey and be ready to discuss your options with one of our Product Experts. The Pinnacle Stair Lift must be professionally installed. The installation takes 90 minutes or less. Please keep in mind that some states* require permits for the installation of the Pinnacle Stair Lift. Please be aware that installation of the Pinnacle Stair Lift may not be available in some regions. Contact a SpinLife Product Expert to confirm that service is provided in your area.
*States that we know require additional permitting: AL, CA, CT, FL, GA, MA, MI, NJ, NY, OR, WA.
* Custom configuration and installation charges will apply. Call a SpinLIfe Product Expert to discuss your needs.
More Information on the Pinnacle Premium Stair Lift
SPECS
Specs
| | |
| --- | --- |
| Lift Seat Width: | 19" |
| Lift Seat Depth: | 18" |
| Seat Rotation: | 90 ° |
| Distance From Wall: | 5" |
| Lift Top Speed: | 19 Feet per Minute |
| Incline Limit: | 30 ° to 45 ° |
Approximate Shipping Dimensions and Weights
REVIEWS
Pinnacle Premium Stair Lift Reviews
View All Reviews
100% of reviewers recommend this
These reviews are from SpinLife customers who have purchased and used the Pinnacle Premium Stair Lift.
More Information on the Pinnacle Premium Stair Lift
RETURNS
Return Policy
This item is non-returnable for one of the following reasons:
This item is custom-made by the manufacturer to suit your specific needs . Please review all specifications carefully before placing your order. Once production of your item has begun – the order is unable to be cancelled.
For hygienic safety and per FDA regulations this item is non-returnable, even if unused.
Please inspect your product upon delivery. If the product is damaged or is not the correct product, please refuse the delivery. If your item was delivered without a signature and is damaged or incorrect please call SpinLife Customer Service.
If you have questions about this item please call a SpinLife Expert at 1-800-850-0335.
More Information on the Pinnacle Premium Stair Lift