Monarch PR-355 3-Position
Great-priced option to comfortably accommodate different body types.
The SpinLife Difference Includes:
Extended Service Available
1 Year In-Home Service
FREE Headrest Cover
FREE 2-Button Hand Control
Lifetime Limited Warranty
White Glove Available
In-Home Service
SHIPPING INFORMATION
Leaves Warehouse In:
In-Stock chairs: 1-3 business days, Builder chairs: 15-25 business day lead time
Details
Ground Shipping:
FREE for orders over $50!
Expedited Shipping:
2nd Day: $0.00
Overnight: $0.00

OVERVIEW
Features
IN-STOCK and READY TO SHIP!
Seat size 21"W x 20.5"D
Available in Medium
Split Chaise Pad
Smooth, Whisper-Quiet Lift and Recline
Simple Two Button Control
Order FREE Swatches
Only at SpinLife
Key Specs
User Height Range:
Weight capacity: 375 lbs.
Weight: 100 lbs.
View all specs
Manuals, Literature & Videos
Overview
The Monarch 3 Position Lift Chair is a distinctive lift chair recliner that combines a generously stuffed seam back with a soft supportive seat. Its three way recline system allows you to get into a "full napper" position for deep comfort. The medium size is 21" between the arms and is recommended for someone 5'4" to 5'10".
SPINLIFE RESERVE STOCK Click For Info

What Makes This Different
Superb performance while easy on the budget, The Monarch lift chair is American built with the finest components and is available in an abundance of pleasing fabrics and colors. This chair is smartly styled while providing comforting relaxation.

Why We Like It
The Monarch can be stopped at any time during lift or recline by simply releasing the selected button, offering a broad choice of positions. Monarch lift chairs are equipped with intelligent technology and a patent pending diagnostic system. Leg-levelers made of non-skid material provide excellent safety and stability.

What You Need to Know When Ordering
Your item, unless otherwise specified, will be delivered to the curb. If you or your loved one require assistance in getting the chair inside the home you may want to choose the "White Glove" delivery option which includes a set-up service. Upon delivery, the chair Will be inspected and tested, and all packing supplies will be removed.
Upgrades in fabrics may increase delivery times. Two 9 volt batteries are required for the battery backup feature and are not included.
*The Straight Lift option is a custom option, therefore when this is added, it makes the chair non-returnable.
Unboxing Your Golden Lift Chair. Golden lift chairs ship fully assembled on a wooden pallet. You'll need to remove the shipping carton and protective plastic wrapping from the chair. It's usually best to have two people lift the chair off the wooden pallet and into the home. There will be a few twist ties around the power cords and remote cable to remove.
Golden lift chairs are Proudly Made by Americans; with domestic and imported materials.

Size Information
Monarch 3 Position Medium
Seat Width: 21"
Seat Depth: 20.5"
Suggested for heights 5'4" - 5'11"

More Information on the Monarch PR-355 3-Position
SPECS
Specs
| | |
| --- | --- |
| Chair Weight Capacity: | Up to 375 lbs. |
| Width Between Arms: | 21.00" |
| Seat Depth: | 20.50" |
| Heat and Massage Option: | Not Available |
| Seat to Floor Height: | 18.50" |
| Seat Back Height: | 28.00" |
| Overall Width: | 32" |
| Overall Height: | 42.00" |
| Back Style: | Split/Seam |
| Back Angle Reclined: | 140 ° |
| Wall Hugger Model: | No |
| Distance from Wall Needed: | 17.00" |
| Fully Padded Chaise: | No |
| Extended Footrest Available: | No |
| Arm Covers Included: | Yes |
| Headrest Cover Included: | Yes |
Approximate Shipping Dimensions and Weights
Product Weight:
100 lbs.
Box 1
Shipping Weight:
114.00 lbs.
Length:
37.00"
Width:
31.00"
Height:
42.50"
More Information on the Monarch PR-355 3-Position
FABRIC COLLECTION
Fabric Collections
You have 6 choices for this product.
More Information on the Monarch PR-355 3-Position
REVIEWS
Monarch PR-355 3-Position Reviews
View All Reviews
97% of reviewers recommend this
These reviews are from SpinLife customers who have purchased and used the Monarch PR-355 3-Position.
More Information on the Monarch PR-355 3-Position
WARRANTY
Warranty Information
CONSUMER LIMITED LIFETIME AND SEVEN YEAR WARRANTY
GOLDEN, through its authorized distributor / service organization, warrants this chair to original consumer only, against defects in material or workmanship as follows:
LIFETIME WARRANTY
GOLDEN, warrants for the lifetime of the chair by the original consumer to repair or replace at their option the Lift Mechanism, Chair Frame and Recline Mechanism. Labor to replace these parts is subsidized on all models for three years. The Capri is limited to six months, The Space Saver is limited to one year, parts and labor on the lift frame, recline mechanism and wood frame.
GOLDEN, shall not be responsible or obligated to pay for any cost or expense for examination of any warranted parts nor is Golden to pay for costs for transportation, handling and packaging of the parts or components.
THREE YEAR PARTS WARRANTY
GOLDEN, warrants the electrical parts of this chair against defects to original consumer only, for a period of three years from the date of original purchase by a consumer. The Monarch chair has electrical parts warranty of 2 years. The Capri and Space Saver chairs are limited to 1 year electrical parts warranty. Labor to replace these parts is subsidized for one year on all models except Capri, Monarch and Monarch Plus, which are limited to 6 months.
GOLDEN, shall not be responsible or obligated to pay for any costs or expenses for examination of any Warranted parts nor is Golden to pay cost for transportation, handling and packaging of the parts or components.
LIMITED WARRANTY FOURTH THROUGH SEVENTH YEAR
During the period beginning with the expiration of the full three year parts warranty offered above and continuing through the seventh year after date of original purchase by a consumer, GOLDEN will warrant the electrical parts on the following prorated basis. Year 4 earns a 35% discount off suggested retail price. Year 5 earns a 25% discount. Year 6 a 15% discount and year 7 a 5% discount. By way of example, a part costing $100.00 that needs replacement in year 4 would cost $65.00.
GOLDEN shall not be responsible or obligated to pay for any costs or expenses for examination and / or service of any warranted part or to pay for costs of transportation, handling and packaging of the chairs and / or parts or components. Capri, Monarch, Monarch Plus and Space Saver are excluded from this portion of the warranty.
TERMS APPLICABLE TO WARRANTIES
GOLDEN will, at its option, repair and / or replace the defective parts and / or components provided that the warranty parts have not been subjected to misuse, abuse or improper service by the consumer, have not been damaged in transit or handling and / or have not been altered or repaired by unauthorized representatives. This warranty does not include costs for unnecessary service calls, i.e., in-home service calls solely for the purpose of educating the consumer about the product, or finding an unsatisfactory power connection, etc. Please refer to weight capacity chart at place of purchase for specifics. Exceeding the weight capacity of the chair will void the warranty.
Jr. Petite & Small Models - 300 lbs.

Capri - 325 lbs.

Medium, Large & Tall Models - 375 lbs.

Royal, Regal and Williamsburg - 375 lbs.

Cambridge, Winston and Pioneer - 375 lbs.

Dual Motor 26" & 28" Wide Models - 500 lbs.

Space Saver - 250 lbs.
In the event that the product does not conform to this warranty at any time while this warranty is in effect, Golden will correct the defect in conformity with the Consumer Limited Lifetime and Seven Year Warranty. THE LIMITED LIFETIME AND SEVEN YEAR WARRANTY SET FORTH ABOVE IS THE SOLE AND ENTIRE WARRANTY PERTAINING TO THE PRODUCT AND IS IN LIEU OF AND EXCLUDES ALL OTHER WARRANTIES OF ANY NATURE WHATSOEVER, WHETHER EXPRESS, IMPLIED, OR ARISING BY OPERATION OF LAW INCLUDING, BUT NOT LIMIITED TO ANY IMPLIED WARRANTIES OF MERCHANTABILITY OR FITNESS FOR A PARTICULAR PURPOSE. THIS WARRANTY DOES NOT COVER OR PROVIDE FOR THE REIMBURSEMENT OR PAYMENT OF INCIDENTAL OR CONSEQUENTIAL DAMAGES. Some states do not allow this exclusion or limitation of incidental or consequential damages so the above limitation or exclusion may not apply to you.
GOLDEN shall not be liable for any incidental or consequential damages or for any other damage or loss not contained in this warranty. This warranty gives you specific legal rights, and you may also have other rights which may vary from state to state. The in-home service portion of this warranty is valid in all 50 states, the Canadian Provinces, and Puerto Rico.
More Information on the Monarch PR-355 3-Position
RETURNS
Return Policy
In-stock lift chairs are returnable however custom-built lift chairs, including but not limited to those with upgraded/custom fabrics, heat and massage, PowerPillow, footrest extension or left-hand control options are non-returnable.
The following policy applies for STOCK LIFT CHAIRS:

This item has a 20% Restocking Fee.
You are responsible for the cost of return shipping and the product must be in the original packaging.
The item must be in new and unused condition.
All accessories and power cords included in the lift chair's box must be returned.
Items canceled after the product has already shipped will be considered a return.
Delivery and service fees are not refundable.
An RA (Return Authorization) from SpinLife must be requested within 10 business days of delivery.
The item must be shipped back to the address noted on the RA within 15 business days.
Once approved, your refund, minus any restocking and freight fees, will be issued to your original form of payment.
If you have questions about this item please call a SpinLife Expert at 1-800-850-0335.
More Information on the Monarch PR-355 3-Position
Popular Related Products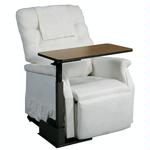 Lift Chair Table