PreserveTech™ 360° Swivel Bath Chair
The bath chair that swivels 360° for ease of transfers and reduces shearing





NEW
PreserveTech™ 360° Swivel Bath Chair
The bath chair that swivels 360° for ease of transfers and reduces shearing
NEED HELP OR ADVICE?
Our Product Experts are here for you
1-800-850-0335
The SpinLife Difference Includes:
Free Shipping for Orders Over $50
Lifetime Limited Warranty
SHIPPING INFORMATION
Leaves Warehouse In:
Ground Shipping:
FREE for orders over $50!
Expedited Shipping:
2nd Day: $0.00
Overnight: $0.00

OVERVIEW
Features
Lightweight 360° Swivel frame
Tool-free assembly
Easy to clean surface
Armrest can be raised
Height adjustable 15"-22"
Key Specs
Weight capacity: 350 lbs.
Weight: 8.8 lbs.
Manuals, Literature & Videos
Overview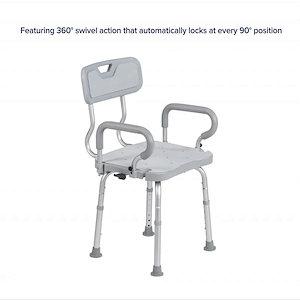 REVIEWS
PreserveTech™ 360° Swivel Bath Chair Reviews
View All Reviews
100% of reviewers recommend this
These reviews are from SpinLife customers who have purchased and used the PreserveTech™ 360° Swivel Bath Chair.
WARRANTY
Warranty Information
Your Drive branded product is warrantied to be free of defects in materials and workmanship for the lifetime of the product for the original consumer purchaser.
This device was built to exacting standards and carefully inspected prior to shipment. This Lifetime Limited Warranty is an expression of our confidence in the materials and workmanship of our products and our assurance to the consumer of years of dependable service.
This warranty does not cover device failure due to owner misuse or negligence, or normal wear and tear. The warranty does not extend to non-durable components, such as rubber accessories, casters, and grips, which are subject to normal wear and need periodic replacement.

If you have a question about your Drive device or this warranty, please contact SpinLife Customer Service.
RETURNS
Return Policy
This item is non-returnable for one of the following reasons:
This item is custom-made by the manufacturer to suit your specific needs . Please review all specifications carefully before placing your order. Once production of your item has begun – the order is unable to be cancelled.
For hygienic safety and per FDA regulations this item is non-returnable, even if unused.
Once products are installed, the product is no longer returnable.
Please inspect your product upon delivery. If the product is damaged or is not the correct product, please refuse the delivery. If your item was delivered without a signature and is damaged or incorrect please call SpinLife Customer Service.
If you have questions about this item please call a SpinLife Expert at 1-800-850-0335.
Popular Related Products