SE
With an impressive 45" turning radius and large pneumatic tires, this scooter is great for virtually any environment.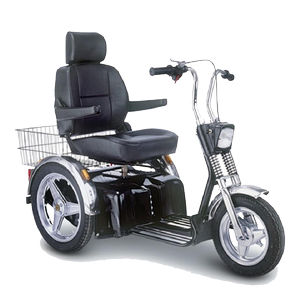 More Information on the SE
BACK TO TOP
Reviews
Viewing 1 - 8 of 8
02/20/2022
Weaknesses:
No suspension. The key is had to insert
Reviewer:
dayton h. from murrietta, ca
User Details:
77 years old. Poor eyesight. No vehicle drivers license the scooter allows the user are travel around the area
Breakdown with difficulty getting fixed.
09/27/2020
Strengths:
Versatility- 2 speed ranges; useable on roads, sidewalks and in stores. I put a tall "attention" flag and installed a triangle "slow caution" on the basket.
Weaknesses:
When speed lever is released it continues motion briefly that causes crashes. Also when activated it tends to lurch and the speed lever must be reduced immediately to prevent crashing into objects.
Reviewer:
norman b. from bolivar, mo
User Details:
Age:83– disabilities: balance due to cerebellar disorder, COPD due childhood asthma, CVA 2015 (embolism)
This scooter has been very useful to me. Wonderful product.
07/05/2020
Strengths:
Ease of use. Easy to get on and off. Good speeds on a straight away. Easy to maneuver in tight area's. Feels solid and like a real vehicle. Easy to charge the batteries.
Weaknesses:
Not sure yet. I have not tried to service the batteries yet.
Reviewer:
john m. from canton, oh
User Details:
Male, age 72, spinal cord injury, lower right quadrant is injured. 230 lbs. Finds it very hard to walk any real distance.
Great machine I wish I would have bought the Afikim SE...
05/17/2020
Strengths:
Well built, very sturdy, very quiet, very easy on the body because of the ultra comfortable seat, very easy to operate and you can drive it on grass, wood chip trails etc, this scooter goes almost anywhere, overall it is just a great machine!
Weaknesses:
The only thing I would like is for the handle bars to lay back a little closer to me because of my short arm reach other than that this is an awesome machine!
Reviewer:
thomas g. from lindenhurst, il
User Details:
70 years old, 50 years as stone mason, bricklayer now disabled!
Just what I needed and wanted.
07/08/2015
Strengths:
Load capacity, style and quality of workmanship.
Weaknesses:
It would be nice if the user could change the seat from bench to bucket easily.
Reviewer:
darrell h. from coweta, ok
User Details:
I'm 67 years old. Disabled Vietnam Veteran. I have trouble walking, due to Agent Orange exposure, heart problems and diabetes, and it's getting worse
Buy if you are looking for quality
05/03/2014
Weaknesses:
Charger probably not the best around but it works.
Reviewer:
jimmie e. from texarkana, tx
User Details:
70 year old male, no disabilities, just out of shape. Bought scooter for auto swap meets and shows. Very well pleased with it.
03/10/2013
Strengths:
The solid construction is impressive.
Weaknesses:
It requires a door larger than 36" to pass through. The throttle is similar to a brake handle. A twist throttle would make a better controller.
Reviewer:
james d. from mandeville, la
User Details:
Not provided
comfortable riding, easy to operate
07/25/2012
Strengths:
easy to access with the rotating seat and low ground clearance, feels very stable
Weaknesses:
didn't come with any assembly information and the user's manual provided operation and maintenance information only. still not sure how to attach rear basket.
Reviewer:
john r. from harwood, md
User Details:
62 year old male, severe arthritis in both knees, CHF, use power chair to get around, unable to walk unassisted.