ICON Back System
Air-Foam cushion rolls over the hard plastic edges of the shell to provide extra comfort when extending or weight shifting.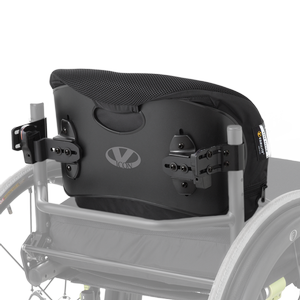 More Information on the ICON Back System
BACK TO TOP
Reviews
Viewing 1 - 4 of 4
Should have purchased sooner.
03/04/2021
Strengths:
Wonderful backrest haven't seen gives great back support. Easy to remove and replace.
Weaknesses:
Nothing at this point
Reviewer:
james r. from windsor, ky (caregiver)
User Details:
Used for our 50 year old son who doesn't walk also uses lift to transfer into chair.
IF YOU LIVE YOUR LIFE IN A WHEELCHAIR...THEN THIS PRODUCT...
02/24/2021
Strengths:
COMFORTABLE SUPPORT, EASY TO USE, EVEN ON FOLDING CHAIRS, SAFE, AND JUST LOOKS COOL...
Weaknesses:
,TAINT ANY... THIS IS A POSITIVE PRODUCT IN EVERY WAY, EVEN WITH ITS HIGH COST. ANYTHING THAT WILL MAKE YOUR LIFE BETTER IN YOUR WHEELCHAIR, IS PRICELESS!
Reviewer:
jonie h. from clearwater, fl
User Details:
BEST PRODUCT OVER ALL THE COMPETION. I USE VARILITE PRODUCTS ON ALL MY CHAIRS. THEIR ABSOLUTLY THE BEST IN THE WORLD, AT ANY PRICE.
12/07/2019
Weaknesses:
Plastic parts.
Reviewer:
everardo a. from colton, ca
User Details:
Eeasy to install very nice, not hevy some plastic parts could be more sturdy but all and all good product
Chair back is mid-rise and comfy
04/17/2017
Reviewer:
michael b. from payson, az
User Details:
I am a functioning C5,6,7 inc quad. I love this chair back as it is able to be inflated to give me more or less cushioning on my back.