Proformance P-375
Great for pools and spas, this lift is easy to use and features an emergency return system and key lock-out system.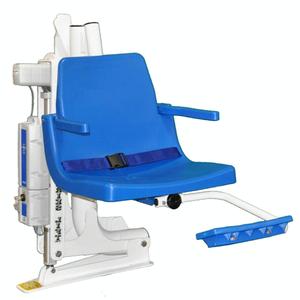 More Information on the Proformance P-375
BACK TO TOP
Reviews
Viewing 1 - 4 of 4
Well satisfied so far, looks good.
07/28/2018
Strengths:
We installed as were told on pool deck, seems to be fine.
Weaknesses:
Side-arm that controls the up-and-down could be a little heavier. The seat seems to be quite slippery when wet, but I can figure that one out.
Reviewer:
gary s. from mayo, fl
User Details:
I'm a 73 year old male, my legs gave up on me. I've had back problems all my life, I don't walk very much. I use for a wheeled scooter to get around.
The Lift is used for rehab
08/26/2016
Strengths:
Did function well as far as going into and out of pool
Weaknesses:
Seat way to low for transfer
Reviewer:
david b. from iowa, la
User Details:
Not provided
Great product and works great
06/18/2015
Strengths:
It is easy to use and easy to install.
Weaknesses:
1. when up out of the pool, the chair needs to be higher to allow ease of transfer to wheelchair. 2. Very, very hard to take the battery off to take in to charge it up. It has cheap water clamps holding the battery to machine.
Reviewer:
randy y. from elkview, wv (caregiver)
User Details:
My daughter who is 23 years old and was born with Spina Bifida.
Proformance P-375: Review
08/21/2013
Reviewer:
dora m. from bainbridge island, wa (caregiver)
User Details:
Not provided