Platform Walker Attachment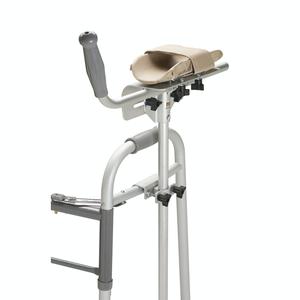 More Information on the Platform Walker Attachment
BACK TO TOP
Reviews
Viewing 1 - 3 of 3
Works with what he can do.
11/20/2016
Strengths:
Works well with hand paralyzed.
Reviewer:
robert a. from port byron, ny (caregiver)
User Details:
Son can not walk, paralyzed on left side, going to therapy and walks with walker with help.
07/08/2016
Reviewer:
juan a. from tolleson, az
User Details:
Stroke. cannot fully extend arm with full strength. Platform helps support arm.
It greatly improves my balance.
11/21/2012
Strengths:
You can adjust it up or down or at an angle. It's well made. I like the strap that holds your arm down.
Reviewer:
kay s. from freeport, tx
User Details:
I had a major stroke, the attachment on my walker works good. I'm able to stand up and walk. My balance is much better.