Elements Back Cushion
Easy to install and can stay on even when the wheelchair is folded.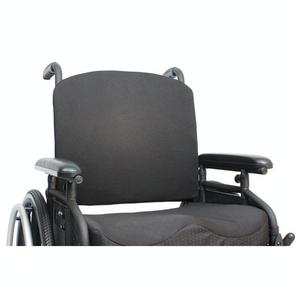 Comfort Company
(Model No. BK-STRP)
VIEW ITEM
More Information on the Elements Back Cushion
BACK TO TOP
Reviews
Viewing 1 - 8 of 8
Decent, not as good as original Quickie
07/03/2022
Weaknesses:
doesn't go as far down to seat as original
Reviewer:
jeffery c. from monticello, ky
User Details:
Fairly active 52 year old amputee with spinal injury.
07/12/2019
Reviewer:
ray s. from yakima, wa
User Details:
Performs as advertised.
Installation was difficult.
06/07/2018
Strengths:
Shape of the cushion.
Weaknesses:
Thinner than I would've liked.
Reviewer:
barbara s. from san antonio, tx (caregiver)
User Details:
Good product when placed over the existing wheelchair back. When the old back is removed and replaced with this product it is not strong enough.
Affordable and effective solution for a wheelchair back...
04/20/2016
Strengths:
Easy to install. Good back support. Affordable solution.
Weaknesses:
Not a perfect fit for my wheelchair.
Reviewer:
phillip s. from shawnee, ok
User Details:
Age: 64 Arthritis in spine pinches nerves making legs less useful.
Elements Back Cushion: Review
03/19/2016
Reviewer:
donald r. from purcell, ok (caregiver)
User Details:
90 year old with broken hip
Totally useless, a piece of cardboard would work better.
06/20/2015
Weaknesses:
Everything about it.
Reviewer:
elaine y. from bedminster, nj (caregiver)
User Details:
80 year old, wheelchair bound.
05/06/2014
Weaknesses:
Difficult to steer, the chair has very thick wheels, Maybe that's an advantage in some form but believe narrow wheels would be more maneuverable.
Reviewer:
anthony b. from redmond, wa (caregiver)
User Details:
Elderly woman wheel chair bound
Easy to install and good support.
09/23/2011
Reviewer:
dan c. from spokane, wa
User Details:
Not provided