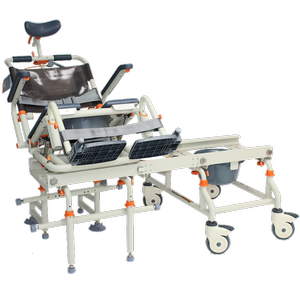 More Information on the TubBuddy with Tilt
BACK TO TOP
Reviews
Viewing 1 - 4 of 4
03/15/2023
Strengths:
Versatile use for toilet, shower, tilts for comfort, rolls easy
Weaknesses:
Hard to adjust height but once it is set is awesome!
Reviewer:
cindy t. from palm harbor, fl (caregiver)
User Details:
Spouse diagnosed with ALS and the Shower Buddy with multiple uses…shower, commode, rolls over toilet, reclines for comfort and drys quickly. Best item
Life saver and easy to use by myself
02/25/2022
Strengths:
Easy to set up, easy to use over tub, one person process with this product. It gave me independence in caring for my husband with showering. Product is very sturdy and solved a major problem for us! Thank you for this product!
Weaknesses:
Changes I would make would be swing out leg rests, easy access to getting under seat of chair for skin cleaning and a better padded seat for comfort.
Reviewer:
debbie v. from trabuco canyon, ca (caregiver)
User Details:
My husband has ALS and has weakness all extremities and is max assist
Once setup, one person can move patient into and out of the...
10/26/2018
Strengths:
Ease of use. One person can move patient from bed to shower/tub and return them to bed. Tilt feature makes it so ease to slide seat into tub without having to lift patients legs. All hospice attendants (more than 10) marvel at how easy for one person to use. Would highly recommend to anyone having problems giving patient a shower/bath.
Weaknesses:
Height of seat (23.5 inches) makes it somewhat difficult to seat patient. Have to use a step stool. Two caregivers make it much easier.
Reviewer:
lawrence w. from lebanon, il (caregiver)
User Details:
Tilt TubBuddy is used for an eighty year old female with PLS. She is currently a paraplegic and has lost use of her lower extremities.
The ShowerBuddy's TubBuddy with tilt (SB2T) is a fantastic...
05/01/2015
Strengths:
There are 2 sets of strengths for this: one being the shipping of it and the other for the unit itself. 1. The shipping packaging was exceptional. It would take a lot to damage the contents. a) The entire carton was enclosed in a heavy plastic wrap so if it was raining the carton and contents were protected. b) The carton itself was heavy duty quality. c) The carton was lined with a pressed styrofoam carton about 1" thick as additional protection for content movement. d) The documentation was right on top so that you had everything when the carton was opened. e) Everything was packed tightly to minimize movement. f) Smaller pieces were packed in additional boxes inside. g) Everything was there with no missing pieces. h) The casters were enclosed in bubble wrap and almost all coated surfaces were wrapped in plastic. 2. The unit is definitely high quality metal NOT PVC. a) Everything is heavy duty including any plastic spaces/retainers and almost all metal is powder coated to prevent corrosion. b) Assembly was pretty much a breeze. c) Everything fit together with no misaligned parts or holes. d) Adjustments were easy to do. e) The instructions were easy to follow and not confusing. f) Once I had everything lined up and level, the chair transferred easily and smoothly. g) Love the infinite recline up to 30 degrees and the lever to use the recline operates smoothly and easily and locks the unit in place when released. h) The primary and secondary locking is a fabulous safety feature to prevent the chair separating form the bases inadvertently. i) The seat cushion is coated in a heavy duty plastic that should definitely hold up for a long time. j) The mesh backing is sturdy and should alo hold up for a long time. k) The casters roll easily even over carpet and are of a high quality construction. l) The detachable bridge is great as it leaves no parts extending outside of the tub area and the curtain can be closed when its detached from the tub base. m) I love all the adjustments on the tub base to ensure stability when the seat is on it and to level the unit. Overall, this appears to be one well thought out, high quality product.
Weaknesses:
The only possible weaknesses are that the unit seat is higher than that of a wheelchair so it may make it a bit more difficult for a very short person. Also, the standard seat with the toilet cutout may be uncomfortable for some people but this is remedied by getting the optional seat cover with it.
Reviewer:
john r. from brighton, mi (caregiver)
User Details:
The end user is a 51 year old female with primary progressive MS and is unable to walk, bath or shower without assistance.
Popular Related Products