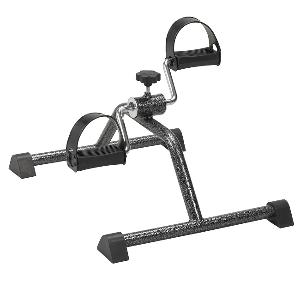 Drive Medical
(Model No. 10270KDRSV-1)
VIEW ITEM
More Information on the Exercise Peddler
BACK TO TOP
Reviews
Viewing 1 - 11 of 11
01/21/2015
Strengths:
Too small. Foot holder doesn't work. Not good at all
Weaknesses:
So bad we threw it in the trash
Reviewer:
david j. from waverly, il
User Details:
Not provided
04/27/2014
Weaknesses:
None--it does what it's expected to do
Reviewer:
betty a. from la canada, ca
User Details:
I have one and purchased this one for a friend going thru chemo. He is delighted with it because he wants to exercise
05/09/2012
Reviewer:
beth j. from spanish fork, ut
User Details:
82 years old. 5 laminectomies. Now is a wheelchair. I am returning the peddler. It looked like a one piece peddler, not "to be assembled." It catche
Good product.The user is happy with the exercise peddler....
02/25/2012
Strengths:
The ablity to adjust the resistence
Weaknesses:
None noted at this time
Reviewer:
lynne h. from white plains, ny (caregiver)
User Details:
85 year old female with osteoarthritis of both knees. Complains of stiffness.
06/02/2011
Strengths:
easy, small, portable and light
Reviewer:
richard u. from avon, in (caregiver)
User Details:
My 82 year old mother with severe arthritis loves it. Uses it for legs and arms. Perfect product for the aged.
05/11/2011
Weaknesses:
slip,s on the floor
Reviewer:
wanda e. from houghton lake, mi
User Details:
Not provided
04/17/2011
Weaknesses:
uneaven pedaling causes too much pressure on knees.
Reviewer:
martha l. from barre, vt
User Details:
55, female, getting ready for bi-lateral knee replacements.
makes exercising easy & convenient
04/13/2011
Strengths:
- lightweight, easily portable, takes up very little room - no reason to skip exercising, it's so easy to do - accessible - ease of use for practically anyone - My mother is 101 years old, and she uses one every day.
Weaknesses:
not really any I can think of - just wish I'd known about it sooner
Reviewer:
nancy s. from buda, tx
User Details:
66, no disability. Like to walk, but my area (terrain, country roads) not favorable for walking or cycling.
10/18/2010
Reviewer:
robert b. from el dorado hills, ca (caregiver)
04/18/2010
Reviewer:
evelyn m. from duluth, ga
User Details:
75 yrs Bad hip. good low impact exercise
It really gets your heart rate going.
01/02/2010
Weaknesses:
Moves a little too much on the carpet when using my feet, I need someone to hold it for me.
Reviewer:
norma jean s. from moorpark, ca
User Details:
physical disability