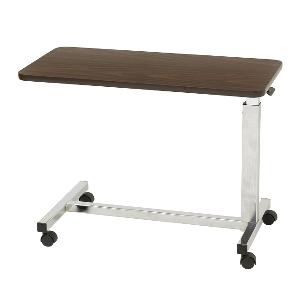 More Information on the Low Overbed Table
BACK TO TOP
Reviews
Viewing 1 - 7 of 7
Easy to use and very steady
06/04/2022
Reviewer:
eunice m. from dallas, tx
User Details:
Not provided
Excellent quality product.
05/21/2015
Strengths:
Metal supporting structure and frame are excellent quality. Nice and sturdy and solid.
Weaknesses:
Have been using it for about one (1) month now and haven't noticed any weakness in its operation.
Reviewer:
daniel t. from tacoma, wa (caregiver)
User Details:
This low overbed table provides a lower height which is ideal for the patient, who has difficulty raising her arm. The instruction manual wasn't v
Not as strongly-built as I expected!
12/31/2014
Weaknesses:
Instructions for putting the item together did not match the hardware included with the item. Was totaly different. Hardware did match the item, so was no problem figuring it out! Would have been a problem for someone without mechanical ability!
Reviewer:
richard s. from fayetteville, nc
User Details:
Age: 73; Wheelchair bound with Ataxia.
Low Overbed Table: Review
01/10/2013
Reviewer:
gloria g. from notthridge, ca
User Details:
Not provided
12/19/2012
Strengths:
It is strong enough to hold the closed circuit tv. When nothing is on top of it, it easily slides up and down.
Weaknesses:
My sister isn't able to adjust the height when her closed circuit tv is on it due to the weight. We bought it because it was strong enough but didn't consider that adjusting it with weight on it is nearly impossible. It is also top-heavy which isn't the fault of the product.
Reviewer:
patricia s. from grass valley, ca (caregiver)
User Details:
I bought it for my sister who needed to put her closed circuit tv on it as she is visually impaired.
Low Overbed Table: Review
04/23/2011
Strengths:
the stand is very sturdy and strong
Weaknesses:
maybe the table could be a little more solid
Reviewer:
calvin t. from honolulu, hi
User Details:
Not provided
Instructions difficult to follow.
04/19/2011
Weaknesses:
Instruction Manual. It is difficult to read and I was and still not able to insert the parts to make the table raise or lower; there is no instruction for this area.
Reviewer:
jeannette l. from kahului, hi
User Details:
Not provided