Evolv Adult
A safe and supportive standing aid for those may not be able to stand unassisted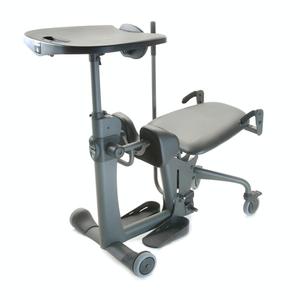 More Information on the Evolv Adult
BACK TO TOP
Reviews
Viewing 1 - 6 of 6
instructions to put it together were not for the stand we...
02/25/2023
Strengths:
fairly easy to use. allows me to stand every day at home.
Weaknesses:
WRONG INSTRUCTIONS SENT WITH PRODUCT. VERY DIFFICULT TO PUT TOGETHER. NO INSTRUCTIONS ON INTERNET
Reviewer:
curt e. from cheyenne, wy
User Details:
SPI 9/3/22 able to use standing machine at home and stand up daily. Very important to by recovery. 66 yr old healthy active man prior to injury.
09/24/2020
Strengths:
My sales rep Phil was good help me buying this product.
Reviewer:
david r. from metuchen, nj
User Details:
wheelchair bound. need to stand to keep bone density strong.
01/28/2018
Reviewer:
charles p. from hermitage, tn
User Details:
Not provided
Overall, an excellent product
10/28/2015
Strengths:
This unit is modern looking with every possible feature designed for end user ease of use. It has a small foot print compared to other standers.
Weaknesses:
The optional glass table mounts on one rod in the front of the machine. The rod is sturdy and has two well-designed adjustment features, but the single-rod design creates movement as the patient leans or moves. This movement is unsettling to the patient as it makes the table seem unstable.
Reviewer:
david h. from gulf breeze, fl (caregiver)
User Details:
This stander is used by a MS patient that has no core strength and no use of her legs.
WELL DESIGNED, WELL MADE PRODUCT
05/27/2012
Strengths:
GREAT DESIGN RESULTS IN NATURAL STANDING POSITION
Weaknesses:
SOME SIMPLE OPTIONS ARE UNREASONABLY EXPENSIVE
Reviewer:
michael c. from grand portage, mn (caregiver)
User Details:
30 YEAR OLD MALE WITH A SPINAL CORD INJURY
Easy to put together and use
05/03/2012
Strengths:
Quality construction, ease of use, came with it's own tools for assembly
Reviewer:
fred w. from monrose, co
User Details:
51 year old T-7 paraplegic, 35 years post injury