Deluxe Bariatric Drop-Arm Commode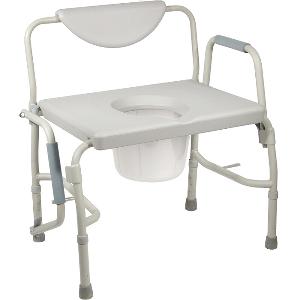 More Information on the Deluxe Bariatric Drop-Arm Commode
BACK TO TOP
Reviews
Viewing 1 - 4 of 4
Satisfied with product. Had previously purchased a...
04/26/2017
Strengths:
Wide, flat seat helps user feel secure while sitting. Bars on either side assist with getting up.
Weaknesses:
Would like to have device where side bars are a little higher and extend out further in front. Still a little hard to push up and off. Also, seat's front to back dimension is too deep. Have to lean far back to use back rest.
Reviewer:
jean r. from suffield, ct
User Details:
Used by 65 year old, 5 foot 6 inches tall, who weighs 300+ pounds and has severe osteoarthritis.
Using this in the shower. It is very sturdy.
10/03/2014
Strengths:
Weight capacity, strength, user feels very secure with this product
Weaknesses:
Only one...wish it came with wheels. We modified ours with extra strength wheels to make it easier for caregivers.
Reviewer:
ann r. from sharon, ct (caregiver)
User Details:
76 yr old male with Alzheimer's, 250 lbs.
Could not have done without this product.
09/12/2014
Strengths:
Easy to set up. Sturdy and stable. Lightweight.
Reviewer:
william g. from ballwin, mo
User Details:
I am 58 and recently had a total knee replacement, limiting my range of motion.
04/07/2014
Strengths:
Very versatile to use. Drop arms on both sides!
Weaknesses:
Needs better advertisement. I do not see it in you catalog. My occupation therapist sent a copy from online. Not everyone is proficient looking up items online, I would have never thought to add drop arm to my search.
Reviewer:
celia s. from goodyear, az
User Details:
69 years old, wheelchair bound, working on transferring with and without slide board, the drop arm has worked well without a board.
Popular Related Products