Reliant Plus 450/600 Power w/Low Base
With low-friction casters, a multi-grip push handle, and pinch point protection the Reliant Plus 450/600 is one of the easiest, safest lifts available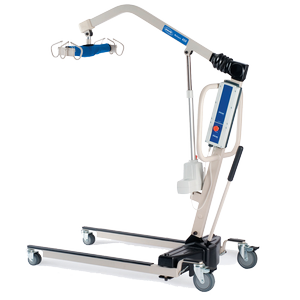 More Information on the Reliant Plus 450/600 Power w/Low Base
BACK TO TOP
Reviews
Viewing 1 - 12 of 31
10/30/2022
Strengths:
Castors roll easily.  Sturdiness of base
Reviewer:
peggy d. from marquette, mi (caregiver)
User Details:
Not provided
Reliant Plus 450/600 Power w/Low Base: Review
03/05/2021
Strengths:
* good quality for the price (ordering was easy and shipment was quick) * the range of the lift goes higher than the lift I currently use * 2 batteries are nice and easy to charge and change out on the lift * the strap hooks are nice and large, clips not necessary (they were removed)
Weaknesses:
* the hand held control needs larger buttons, with a ridge perhaps, too easy for finger to slide off during operation * lift takes an extra push to get it moving or turning, I think it is the dual wheel in the front that causes the "drag" * the operations of the lift are slower than I am used to * the angle of the main beam goes forward more that our current lift, requiring some maneuvering to get him into his shower chair
Reviewer:
dean g. from provo, ut (caregiver)
User Details:
39 year old male, ventilator dependant quadriplegic (6'4" tall)
08/17/2018
Strengths:
maneuverability thru doorways, etc.
Weaknesses:
none that we have met yet.
Reviewer:
connie k. from wheeling, wv
User Details:
product works as we expected.
08/17/2018
Strengths:
The safety it provides, by being a good solid lift, is the most important feature.
Reviewer:
katherine s. from cornell, wi (caregiver)
User Details:
This lift is used in an Adult Family Home for a 27 year old who has CP. It is used to transfer him from bed to the shower room and back to his room.
A better lift for bariatric patients
02/06/2017
Strengths:
The big wheels are better for bariatric patients, but still not good enough to glide easily over carpet.
Weaknesses:
The product did not come with a technician to set it up: FedEx dropped off the 100lb+ box off and we had to put it together ourselves. The SpinLife customer service rep told me on the phone that I could set it up myself, no tools required. I had to get on the phone with the manufacturer. It definitely does require tools (two wrenches) to tighten the bolts in a way that makes it safe to use.
Reviewer:
nina g. from new york, ny (caregiver)
User Details:
The user of this product is a 94-year old woman who is 295 lbs and can no longer walk.
Have had no experience before with using a similiar product...
03/20/2016
Strengths:
Strength and durability
Weaknesses:
Very difficult to manuever on a rug but we have tried to cover most of the area of use with heavy plastic mats as those used under office chairs.
Reviewer:
jean p. from university park, il (caregiver)
User Details:
78 year old male with very little mobility and little arm strength.
It's a good product overall.
10/12/2015
Strengths:
The width, it can pick the patient up from the floor, and it is easy to operate.
Weaknesses:
It does not have a built-in scale for weighting patients.
Reviewer:
jessica z. from st charles, mo (caregiver)
User Details:
She is about 50 years of age and her physical ability is moderate to minimal.
Great lift, easy and safe to use!
09/02/2015
Strengths:
It is easy to use, and you feel safe when sitting inside the sling.
Weaknesses:
I would like to see the bar angle to a position so that the individual could hold onto it. A person might feel safer if they could reach and hold onto the bar instead of the ropes.
Reviewer:
diane h. from waterville, me (caregiver)
User Details:
Not provided
Once assembled, the product is easy to maneuver, push...
03/08/2015
Strengths:
Ease of use. It eliminates the stress of backaches for the caregiver since it is no longer necessary to pump up the hydraulic lift. Push button power is the way to go, especially when it has to be used multiple times during the day.
Weaknesses:
Have not found any problems with the product, except for needing help in putting it together. The main problem is that the insurance companies don't see that a product of this type is a necessity for older couples who don't have the strength to use the manual lifts.
Reviewer:
loretta m. from brooklyn, ny (caregiver)
User Details:
70 year old male, approx. 240 lbs, with Multiple Sclerosis. He is a paraplegic, but has good upper body strength.
03/28/2014
Weaknesses:
None except no instruction about whether or not to leave charger plugged-in
Reviewer:
ronald n. from pleasantville, ny (caregiver)
User Details:
74 year old Alzheimer's patient
much easier than previous lift
06/04/2013
Strengths:
much sturdier and easier to hook up the sling
Weaknesses:
still doesnt move on the carpet as easy as we needed. I was expecting larger wheels and my carpet is not deep pile or the pad under it. however his weight may be a factor here
Reviewer:
thomas i. from morro bay, ca (caregiver)
User Details:
age 72, diabetes, ALZ, obese, cant walk or stand
A great product as far as I'm concerned.
04/13/2013
Strengths:
It does what it is designed to do and does it well.
Weaknesses:
The only weakness I could find was that I would like less play where the vertical part of the lift meets the base. A more precise fit would make me feel better.
Reviewer:
andrew p. from peekskill, ny (caregiver)
User Details:
My wife is 67 and has MS and now has no use of her legs. This lift is a lifesaver for us. I'm 71 and caregiver for 95% of the time.
Popular Related Products