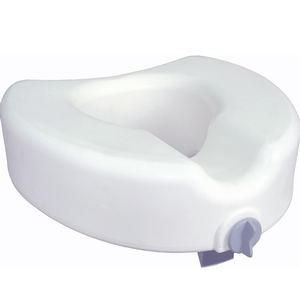 More Information on the Raised Toilet Seat
BACK TO TOP
Reviews
Viewing 1 - 3 of 3
Provides necessary height for the disabled to feel safer...
07/17/2014
Strengths:
Adds height to handicapped toilet for 6'3" man, sturdy, easily installed, easy to clean.
Weaknesses:
Could use a little more room on the sides to help leverage. Can't use rails.
Reviewer:
terry s. from vienna, mo (caregiver)
User Details:
65, male, head injury, hemiplegic
Raised Toilet Seat: Review
03/09/2009
Reviewer:
donna m. from santa maria, ca
User Details:
age is 48, with multiple sclerosis
Great Product and great idea.
07/03/2008
Reviewer:
patricia m. from borrego springs, ca
User Details:
I am 80 years old with bad knees. Getting up and down is painful so the toilet seat being higher helps a lot. I love the product.
Popular Related Products