Genesis 400 Hydraulic
As the only hydraulic lift that can convert into an electric lift, the Genesis 400 is a durable, affordable lift that offers incredible versatility.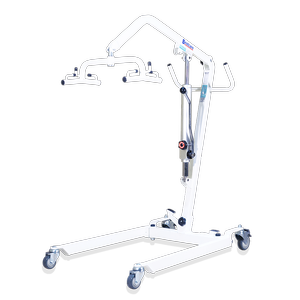 More Information on the Genesis 400 Hydraulic
BACK TO TOP
Reviews
Viewing 1 - 10 of 10
Two points of contention, one casters are not meant for a...
11/15/2018
Strengths:
I like the spreader system with a foot pedal.
Weaknesses:
Again the casters and hydraulic pump need to be improved.
Reviewer:
michael a. from cathedral city, ca
User Details:
Transfer from bed to wheelchair and back to bed.
01/01/2017
Strengths:
Being able to disassemble for moving.
Weaknesses:
Legs will not stay where you put them.
Reviewer:
stephen m. from lafayette, tn (caregiver)
User Details:
My wife, she has MS. I want to thank you for helping us on the cost when the price changed. It help a lot.
02/19/2016
Reviewer:
carolyn b. from zeigler, il
User Details:
He is a invalid
Genesis 400 is easy to use, and I have had no problems with...
09/24/2015
Reviewer:
karla m. from broken arrow, ok (caregiver)
User Details:
Age 55, has MS, severe loss of movement in legs. Legs are contracted into bent position, arms and shoulders sensitive.
This patient lift helps transfer and assist in toileting...
05/27/2015
Strengths:
I really like this new kind of sling in which the lower body loops of the sling fit under the patients thighs. This part of the sling is shaped like a "U" and we are able to fit the sling securely around my parent with a minimal amount of patient "turning/rolling". This is convenient because my parent is a large person. It also has a large lift range (in height), which helps maneuver the patient during some transfers. The height of the wheels is ideal (not too high), which makes it easier to maneuver under furniture. It's smaller than other lifts but seems to be engineered to have a lot of convenient advantages without sacrificing lifting power in height.
Weaknesses:
This lift comes in two versions and can be converted from a hydraulic (pump) to an electric battery powered lift. We have the hydraulic pump version and the pump had to be replaced because, over time, the lifting boom would slowly drop and would not hold the patient at one height. It was easily replaced with a new one from the manufacturer. The new pump works and it has seemed to correct the issue.. Another issue with the pump is that the distance the pump raises the patient is a lot less than pumps of other manufacturer's devices. This was not a side by side comparison but what we recall from memory. We have used two other manufacturer's devices. It will be interesting if we convert to electric battery actuator version and then compare ease of use, electric vs pump.
Reviewer:
william s. from oakhurst, nj (caregiver)
User Details:
I am an "informal" caregiver for one of my parents. Both myself and Certified Aids use this lift.
Genesis 400 Hydraulic: Review
06/23/2014
Strengths:
I would not be able to pick my grandson up from the floor without it.
Weaknesses:
The pumping takes some time.
Reviewer:
linda g. from century, fl (caregiver)
User Details:
Not provided
Thank you, Spinlife good job
05/11/2014
Strengths:
Great does the job
Weaknesses:
None that I know of
Reviewer:
frank r c. from bowler, wi
User Details:
I bought the lift so I would not have to put my wife in a home she enjoy know that she can stay at home that we own and is paid for thank you
04/26/2014
Strengths:
Looks good, assemble and disassemble easily, rolls easy
Weaknesses:
Doesn't lift quite enough for use from an electric wheelchair
Reviewer:
joseph s. from aubrey, tx
User Details:
74 year old, muscular dystrophy
Best price, but has not limited the quality or effectiveness
05/16/2013
Strengths:
Price, and free shipping. Ease of assembly. Ability to fit under bed or chairs.
Weaknesses:
Storage concerns when fully assembled, due to size.
Reviewer:
linda s. from greenville, nc (caregiver)
User Details:
82 year old woman with previous bilateral knee replacement, recent major abdominal surgery, and very prone to fall.
02/04/2012
Reviewer:
robert s. from columbus, oh
User Details:
Not provided
Popular Related Products