Celebrity X 3-Wheel
Most affordable rear suspension scooter, great for those who demand high quality and performance.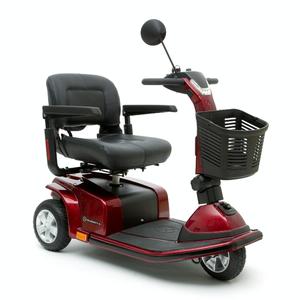 More Information on the Celebrity X 3-Wheel
BACK TO TOP
Discontinued
This product is either discontinued by the manufacturer, or no longer available at SpinLife.com.
To find a comparable product at SpinLife.com, please
click here
or call our ProductExperts at 1-800-850-0335.
Need a Manual?
Reviews
Viewing 1 - 12 of 14
09/10/2011
Strengths:
the way it breaks down so it fits into most anything
Weaknesses:
i have not found any at this time
Reviewer:
linda s. from milton, vt
User Details:
I have very bad knees.. so mobility is an issue
Celebrity X 3-Wheel: Review
12/11/2010
Strengths:
Power, speed, and a very smooth ride. Also very attractive.
Weaknesses:
The seat back is not at all comfortable and can't be adjusted. (As a side comment that might impact on someone's decision to buy this very nice scooter, to buy a T-bar attachment for the seat post so that I can use my Bruno lift to get the scooter in the car, I had to pay the unbelievable price of $300 for a small piece of hardware.)
Reviewer:
william d. from north potomac, md
User Details:
68 year old polio survivor with post-polio syndrome
I'm very pleased with my Celebrity
02/06/2010
Strengths:
This is my 4th scooter. It's the easiest to manuver with one hand thanks to the design of the tiller and the base it's connected to. It's much easier to turn. It's faster than my other scooters. I love the lighted power indicator because it lets me see how much power is left at night. I used to have to use a flashlght to check the charge on my older scooters at night. The seat is wider and very comfortable and the arms are longer making it more comfortable to rest on. I like the rubber floor vs. the carpeted floor.. easier to clean. I like the black tires and I'm glad solid tires are now standard on this model. Having to deal with air compressors and bending to get to the tires is almost impossible for me. Solid tires are the best. The ride isn't as hard as people say.
Weaknesses:
I wish the lights were brighter. I use the scooter every evening and don't think the lights are bright enough to be seen by traffic. I wish there was an umbrella accessory made for the scooters that would cover the driver, controls and seat. It would also nice to have an odometer. I put lots of mileage on my scooter.. would love to see how much!
Reviewer:
sharon d. from boynton beach, fl
User Details:
I'm a 50 something woman with Polymyositis, an autoimmune disease that has weakened my leg muscles and I fall easily when I walk. Without my scooter,
A gentleman came up to me in the doctor's office and wanted...
10/31/2009
Strengths:
Well constructed, easy to get on and off and it has given me back my freedom to do things I've not been able to do for several years!
Weaknesses:
Weaknesses are more related to the lift: 1. The straps to secure the scooter onto the lift are too low for someone who can not bend down to pick up the straps to secure the scooter once on the lift-This is the most difficult part to do is to secure the scooter. (I am working with a fabricator to modify how the scooter is secured on to the lift). 2. I purchased the walker holder to attach to the scooter; just a suggestion, mention that the walker holder must be removed from the scooter in order to get the scooter on the lift and into the van; it defeated the purpose for which I wanted the holder. 3. The cradle holder (which I ordered after lift was installed)should have been included as a component of the lift; the scooter does not SAFELY sit on the lift without fear it would fall off. I did not feel comfortable using the lift until I installed the cradle.
Reviewer:
eldon n. from la harpe, il
User Details:
Suffered polio as a child and now at the age of 77 am no longer able to walk
My new scooter allows me be more active with my family and...
03/29/2009
Strengths:
It's easy to use and regulate the speed, comfortable to sit on for long periods and has lights for use after dark.
Weaknesses:
The fact that it should not be gotten wet, is somewhat of a worry. Since I like to take it on the back lift on our van, and although I only take it on sunny days, you never know how the weather will change.
Reviewer:
catherine s. from bryans road, md
User Details:
I am a 54 year old female with bad knees and feet. Although I can walk, standing and walking around for long periods is very painfull for me.
It's been a great bike. It takes me everywhere I want to go.
12/04/2008
Strengths:
The fact that it does go faster than the average bike. Very comfortable and streamlined.
Weaknesses:
The baskets that go on the bike are much to small. The fact that it has baskets is nice but they need to be much bigger.
Reviewer:
douglas h. from stockton, ca
User Details:
I am 42 yrs. old and I suffered a stroke after a traumatic event. I bought the bike about a year later and WOW what a neat bike it is.
Celebrity X 3-Wheel: Review
07/28/2008
Reviewer:
zinaida k. from saint louis park, mn (caregiver)
User Details:
Not provided
Celebrity X 3-Wheel: Review
07/21/2008
Strengths:
Powerful enough on long or steep slopes.
Reviewer:
mark l. from calgary, ab , canada
User Details:
Not provided
05/01/2008
Strengths:
Make sure you order the large extra capacity batteries for this scooter
Weaknesses:
pride has severely reduced quality on this scooter in an attempt to reduce their cost and increase their profit rather than thinking of the end user
Reviewer:
robert s. from lake alfred, fl
User Details:
I am 66 years old and have an inoperable broken knee
after about a month I am liking it
12/18/2007
Strengths:
the distance I can go, relatively quiet, hand teller much easier on my arthritic hands, Very comfortable seat. Basket is convenient as is the pouch on the bag of the seat. I love the accessories that are possible. Check back with me in 6-12 months. I go 4-10 miles every day. Let's see if it holds up - my other scooters did not. Recharges relatively fast.
Weaknesses:
The seat or something squeeks and I can't figure out how to quiet it. The front end extends out to far to make it easy for me to get through out locked park gate. I have to use my cane to hold the gate, go in reverse and then grab the gate and so forth to get through on my own - Wasn;t expecting this challenge when I got it. My arthritic hands have a hard time pushing in and removing the round connector to recharge at the hand teller end.
Reviewer:
carolyn r. from centennial, co
User Details:
hanidcapped (degenerative arthritis everywhere - hands, back, knees, ankles) female 50's but needs to get out for fresh air sanity :)
Celebrity X 3-Wheel: Review
11/09/2007
Strengths:
I like the tiller.I like the wide seat.I like the stiling.It has good power with the forty amp batteries.
Weaknesses:
I wish they put the charger on board.The seat should have a higher back for more support.The seat should go higher.
Reviewer:
tom s. from oroville, ca
User Details:
Not provided
so far we really like the scooter.
07/24/2007
Strengths:
Celebrity model. Easy to use, variable speed adjustment great. We have used ones in stores that are difficult to slow down so this is a good safety feature. That it breaks down so it can be loaded into the trunk of a car. See below.
Weaknesses:
We purchased the 3 wheel model and now wish that we had gotten the 4 wheel version because of the balance coming onto the angle of cement on the handicap access areas. Also, breakdown weight. The heaviest piece is still pretty heavy 55-60 lbs. Seems like it could be lighter. Incidently, the cup hold that came free does not fit on the scooter due to the concave bottom of the arm rest onto which it is supposed to fit.
Reviewer:
olga p. from gresham, or (caregiver)
User Details:
76, male, moderate stroke, right side, now walks with a cane for short distances.