Breezy EC 4000R
Dual axles can easily be lowered to a hemi seat height for self-propulsion.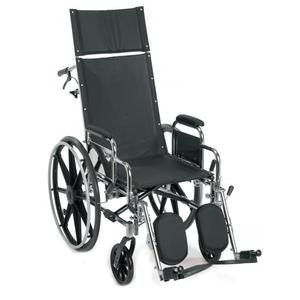 Sunrise / Quickie
(Model No. 4000R)
VIEW ITEM
More Information on the Breezy EC 4000R
BACK TO TOP
Discontinued
This product is either discontinued by the manufacturer, or no longer available at SpinLife.com.
To find a comparable product at SpinLife.com, please
click here
or call our ProductExperts at 1-800-850-0335.
Need a Manual?
Reviews
Viewing 1 - 6 of 6
After less than a month, the brakes (Right side only) does...
11/26/2017
Strengths:
The weight, can be used for outside transport after removing the extended back support.
Weaknesses:
I think that because it is suppose to be light weight it seem that some of the quality of the chair was lost.
Reviewer:
joann b. from seaside, ca (caregiver)
User Details:
The person lives in a memory care facility, and is in the wheel chair most of the day. She has Alzheimer's. She is 88 years old.
Received on time, and the service was good.
08/28/2016
Strengths:
The quality of product, and easy assembling.
Reviewer:
aura r. from katy, tx (caregiver)
User Details:
My mother is 91 years old. She broke her femur. She is petite and this wheel chair is a good fit.
it does for what we want.
05/12/2011
Strengths:
very easy to use.
Reviewer:
ronnie w. from dobbin, tx
User Details:
Not provided
The chair seems to be a good value for the price.
01/29/2009
Strengths:
It offers several premium features for a good price. The product description on the web site was very good and allowed me to make a good decision as to what to purchase. It was delivered promptly and in good condition.
Weaknesses:
The wheels are made of plastic. I am not concerned about this in that the chair is used inside and is not used for a lot of movement. I might have been concerned if it was going to be utilized for a lot of transportation.
Reviewer:
francis b. from manchester, nh (caregiver)
User Details:
Purchased for my mother who resides in a nursing home. She has Alzheimers and spends a good part of her day sitting in a wheelchair.
Excellent product at a great price!
10/08/2008
Strengths:
The wheelchair is very well balanced and easy to use by user and caregiver. I particularly like the ease of removing and installing the armrests for transfers.
Reviewer:
victoria b. from cincinnati, oh (caregiver)
User Details:
Male, 88 yrs old with left side weakness and limited mobility
Product very good, cost very competitive.
07/02/2007
Strengths:
No additional comments
Weaknesses:
No additional comments.
Reviewer:
lynne s. from culver city, ca (caregiver)
User Details:
84 yr old female with impaired cognition, impaired mobility