Top End Excelerator Custom
7 seat sizes and a smooth ride custom fit for you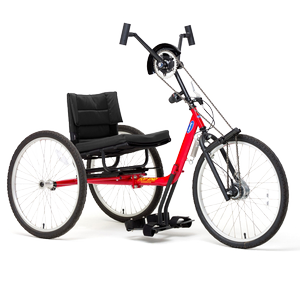 More Information on the Top End Excelerator Custom
BACK TO TOP
Reviews
Viewing 1 - 11 of 11
12/26/2018
Reviewer:
michael m. from lewiston, ny
User Details:
59 yr old paraplegic who loves being outdoors
08/19/2018
Weaknesses:
The add on features of the rear view mirror and crutch holder are cheap and flimsy.
Reviewer:
eric l. from plover, wi
User Details:
Amputee missing whole left leg. Walks with forearm crutches.
Top End Excelerator Custom: Review
01/17/2012
Strengths:
All portions of the handcycle are top end products throughout the entire bike.
Weaknesses:
I requested a 14 speed TOP END bike and on my other Xcellerator I had a 7 speed only but different crank proportions which the O.T. discussed with me 12 years ago. The gearing for this bicycle leaves gears one through seven as so low you would be climbing a 10 degree hill for any use. Gears 8 through 14 provide about the force of second gear on a 3 speed bicycle. You must train in a different manner to satisfy a person with disability's needs more intently
Reviewer:
james d. from naples, fl
User Details:
65 years old, paralyzed lower extremities, arms becoming weak. Owned XL Xcellerator for 11 years.
09/28/2011
Strengths:
It has a solid frame.
Weaknesses:
It need brakes on the rear wheels for dismounting. The seat does not go far enough back, uncomfortable with my prosthetics.
Reviewer:
robert c. from washington, ut
User Details:
I am a bilatteral amputee, ak and bk. I do not concider myself handicaped but it is hard to ride a regular bike with my prosthetic legs.
12/01/2010
Strengths:
gears adjustable, seat and footrest, big wheels
Weaknesses:
quick release wheels slide loose
Reviewer:
katrina m. from liberty, ky
User Details:
15 yr. old male with cerebralpalsy
Outstanding product that is easily repaired in rare...
09/04/2010
Strengths:
Ease of repair if you follow manual and use allen wrenches that comes with the handcycle.
Weaknesses:
The chain comes off the sprocket too easily but true of any high end bicycle if not personalized. After personalization, it operates extremely well.
Reviewer:
roy l. from sumter, sc
User Details:
I am 63 years of age and really like my Top End Handcycle. My mobilty is impaired due to calcification of my hip joints. I really appreciate the help.
Top End Excelerator Custom: Review
07/22/2010
Strengths:
Easy to get into, pedal, and get out of.
Weaknesses:
Even in 1st gear, it is much harder to pedal than other bikes with more gears.
Reviewer:
carl a. from knotts island, nc
User Details:
I am a 56 yr old paraplegic with excellent upper body strength. I had used a Freddom Ryder handcycle for years.
I like it very much for excercize. I average 18 miles a...
07/11/2010
Strengths:
I like the way it handles, the seating is very comfortable, & easy to transfer on & off.
Weaknesses:
The only weakness is the convex mirror, which was an optional accessory. Believe me, it's flimsy & very hard to focus, & positioned in the wrong place. It's not worth the extra $23.00. I had to buy & mount my own flat mirror in a easy-viewing position, which, also, makes it much safer.
Reviewer:
robert h. from plain city, oh
User Details:
Male, 67-year old, paraplegic
08/24/2009
Strengths:
Quality product; Well built, Easy to use. FUN
Weaknesses:
Seat could go back a little more. More adjustments for the foot pegs, otherwise it's great
Reviewer:
rich h. from mineola, ny
User Details:
Above Knee Amputee; 5'11",185 lbs
11/04/2008
Strengths:
easy to adapt to
Weaknesses:
placement of front brake
Reviewer:
joe s. from killen, al
User Details:
44 year old, Mom of 4, semi-active personality, with a t-12 parapalegic spinal cord injury.
Top End Excelerator Custom: Review
06/17/2006
Strengths:
Provides a workout that is progressively demanding and is also pleasing and empowering - a new freedom.
Weaknesses:
The crutch holder I ordered is poorly designed. Came with no information and has been of limited use.
Reviewer:
gerard g. from rockaway park, ny
User Details:
69 years old - male - after 10 years my replacement hip became infected. spent 4 years trying to get rid of the infection.