Nexus Spirit
Features a contoured base for positioning of the pelvis and lower extremities and for increased stability while transferring.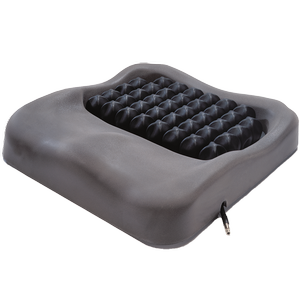 More Information on the Nexus Spirit
BACK TO TOP
Reviews
Viewing 1 - 12 of 22
08/05/2020
Strengths:
The mixture of roho and foam supports me. Also stops skin damage and breakage.
Weaknesses:
None that I can tell thus far
Reviewer:
dometris d. from district heights, md
User Details:
The product is great and easy to use. Perfect condition and was easily received.
11/06/2019
Strengths:
I really like the firmness for making transfers better, combined with the insert for pressure relief. I like getting patches for repairs.
Weaknesses:
Seems like the inserts only last about a year before they start getting small holes/leaks. I end up with patches on top of patches!
Reviewer:
joyce t. from clermont, fl
User Details:
T10-11 complete paraplegic - 38 years
Easy to use but not for me - did not relieve pressure point...
06/20/2019
Weaknesses:
Combo foam & air cell seat offers rigidity to seat but air cells fail to offer pressure point relief. Maybe go with all air cell seat for pressure point relief. Did not suit my needs.
Reviewer:
carlos a. from cave creek, az
User Details:
Not provided
customer service department is WONDERFUL - her help was a...
10/31/2018
Weaknesses:
description of the cushion size should be clearer (or, in my experience at least, should be accurate :-)
Reviewer:
tom a. from bainbridge island, wa
User Details:
paralyzed from T12 down (shredded spinal cord)
06/10/2018
Reviewer:
edward m. from boulder, co
User Details:
Not provided
Seat didn't fit my wheelchair so I had to return
07/16/2017
Strengths:
Takes pressure of parts of body. Very comfortable.
Weaknesses:
May have to inflate from time to time.
Reviewer:
curtis p. from conway, ar
User Details:
36 year-old male with spina bifida.
12/11/2016
Strengths:
Air cushions in back.
Weaknesses:
Air tube is not user friendly. First cushion had to be sent back. Wasn't able to twist air nozzle. Replacement better, but is still awkward. If the air tube was longer it'd be easier to pump in the air.
Reviewer:
sherry m. from santa rosa, ca
User Details:
56 years old. Unable to walk.
Comfort and air has stopped his butt from hurting.
09/17/2016
Strengths:
Comfort and durability
Weaknesses:
Haven't found any yet.
Reviewer:
carole d. from escondido, ca (caregiver)
User Details:
My husband is 72 and was diagnosed with dementia 6 years ago. He also has physical disabilities and has been in a wheelchair the last 3 months.
Initial trial was a five hour dance recital - NO...
05/19/2015
Strengths:
Adjust-ability, correct seat sizing (many options), easy to assemble and implement
Weaknesses:
Minor, BUT the accompanying hand pump could use and attached small cord to allow it to 'safely' accompany the chair it is used with
Reviewer:
thomas h. from kensington, ct (caregiver)
User Details:
The ROHO Nexus cushion was purchased as a 'next step' assist to a chair bound lady of medium height and weight.
02/26/2015
Reviewer:
baron h. from lamar, sc
User Details:
Not provided
10/03/2011
Strengths:
The The Nexus Spirit cushion provides comfort and security to a patient sitting in a wheelchair.
Reviewer:
bernard c. from los angeles, ca
User Details:
The cushion was puchased for my wife. She is 88 years and was diagnosed eith Alzheimers disease 9 years ago.
07/04/2011
Weaknesses:
very hard product in the cils
Reviewer:
levi s. from chattanooga, tn
User Details:
Not provided