Sara Stedy
The perfect sit to stand providing support for the patient and assisting the caregiver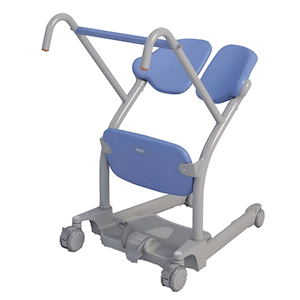 More Information on the Sara Stedy
BACK TO TOP
Reviews
Viewing 1 - 1 of 1
When he can't transfer this unit is extremely helpful.
09/10/2023
Strengths:
Ease of use and moving it around.  Sturdy and safe. I'm a small person and I can move him easily.  Nice for getting him into bed at night when he's really tired.
Weaknesses:
I have LazyBoy furniture with recliners on the couches.  There is a bar close to the floor that doesn't allow the foot of the sit to stand to get under.  I sit him on the end of the couch and can get him somewhat close, but he's off kilter.  I wish the legs would open just a bit farther to get around a single recliner as well.
Reviewer:
david z. from new berlin, wi (caregiver)
User Details:
His neurological issues are gait and balance, memory and confusion.  It is progressive and he has difficulty standing up, walking and transferring.