i-Go Folding Scooter
Lightweight foldable scooter that is reliable for up to 12.4 miles on a single charge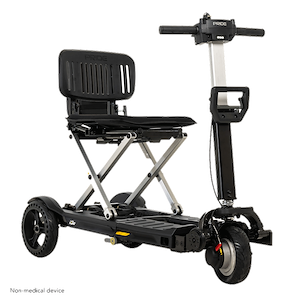 More Information on the i-Go Folding Scooter
BACK TO TOP
Reviews
Viewing 1 - 1 of 1
It's compact, fits in the car, trunk or back seat. It...
08/25/2023
Strengths:
I love how the I-Go separates into two pieces to make it easier to load and unload into the car. Each piece is still 30+ lbs. It has a single wheel in front allowing a great turning radius. Has pretty good speed when riding alongside a friend that's walking.
Weaknesses:
Cannot stretch out my legs very well. I am short so my feet set on the front tire frame. I cannot load or unload from car, I have an injured shoulder. My BF has to do it for me. I've only had the scooter for 3 weeks and used it 6 times. At times when I turn to key to start it the lights do not turn on to show its ready to drive. I have to push the handle bars forward when hitting to toggle to move forward. Unsure if it need servicing already.
Reviewer:
elaine b. from davis, ca
User Details:
I'm 62 yrs old, have limited walking ability, arthritis in both knees, need surgery.