LiteRider Envy LT
Entry level power wheelchair for your basic needs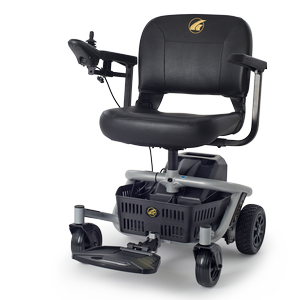 Golden Technologies
(Model No. GP161A)
VIEW ITEM
More Information on the LiteRider Envy LT
BACK TO TOP
Reviews
Viewing 1 - 2 of 2
Golden technologies got it right!
05/11/2023
Strengths:
This is my 7th literider (9th power chair). After trying two other brands, I have stuck with the literider. GT has changed some features through the years, some for the better, most not. I currently have 5 in use, one downstairs, one stays on my car lift, one in the garage for checking mail and dog walks, and one in the garage I use in the yard ( not good for working in the yard so I use the oldest one.) and the new Envy LT is upstairs in my ranch style home.  The LT has thinner back wheels making it easier to go through doorways. The seat has been moved forward on the frame so the wheels are behind my feet and not banging into appliances. This does make the battery stick out farther in the back but has not been an issue.  GH returned to the older style joystick which I like much better. Button push for speed control instead of turn knob which I hit my mistake often. Plus the on button with the turn knob joystick was annoyingly bright at night. GT also returned to the older style rear wheel release, the newer one will catch on toys, shoes and tall grass triggering just enough to disable the chair. Lastly, GT removed all the covers and splash guards not needed for in home use.
Weaknesses:
If the intent of the LT is truly in-home use, the back wheels could be hard wired to prevent accidental disengagement. The battery connections could be hard wired to the LT eliminating the batter pack. I would have to say, changing batteries in the battery pack is the most troublesome. 
Reviewer:
barb a. from o fallon, il
User Details:
Late 50's widow 5'5", 165 lbs. with multiple sclerosis 22+ years. Can stand but not walk unaided. Very active.
This chair is light, flexible, and small.
03/16/2023
Strengths:
Small with small turning radius. Has a basket.
Weaknesses:
Seat tends to tear.. I buy one of these every 2 years but well worth it.
Reviewer:
carolyn d. from cheyenne, wy
User Details:
I have soliosis ad a severe balance problem.