Baja Wrangler 2
The all-terrain scooter with 18 mile drive range and upgraded features.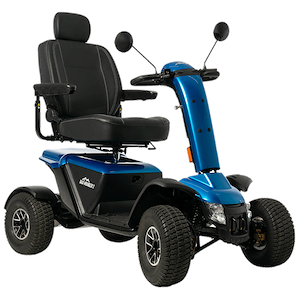 More Information on the Baja Wrangler 2
BACK TO TOP
Reviews
Viewing 1 - 4 of 4
09/27/2023
Strengths:
Excellent outdoor machine and very comfortable, although I sometimes use it inside in the senior retirement community I live in which has very large halls.
Weaknesses:
1. The turn radius is much larger then my Venture which makes it difficult to make sharp turns to bypass obstructions. I have to stop, backup and than work my way forward, sometimes several times. 2. Can not set the Clock, button pushes are too complex. Why not make it set like a cheap clock? 3. I cannot get the odometer to register total milage. 4. This is not a expected to be a cheap machine so please do not shortcut the design just to lower the price by a few dollars.
Reviewer:
paul g. from central point, or
User Details:
Not provided
Baja Wrangler 2 is excellent for durability and comfort.
04/27/2023
Strengths:
Comfortable and roomy sea t, able to ride smoothly on uneven ground and powers well even on wet grass. It can be driven on road as it has front and back lights, disc brakes, horn and rear view mirror.
Weaknesses:
Turning radius pretty wide but that's a minor thing.
Reviewer:
marianne b. from junction city, or
User Details:
I'm 70, partially disabled and a larger woman needing a sturdy, comfortable and efficient scooter.
I have 4 acres and get to go all over
01/01/2023
Strengths:
There is a good chance of not tipping over
Weaknesses:
Having to take the batteries out in the cold
Reviewer:
dorecia w. from carbondale, pa
User Details:
I  am the user I haven't use it that much because of the weather my spine is falling apart I have arthritis and diabetes and just broke my leg
Exactly what we needed for easier access to the property...
08/01/2022
Strengths:
Easy to operate, powerful enough to carry passenger, adequate speed for use, small enough to park in garage, oversize tires do not dig into the loose ground. Well built on all moving parts and is very comfortable.
Weaknesses:
Just a little too quick on low setting in reverse for parking in garage.
Reviewer:
john b. from flagstaff, az
User Details:
77 yrs old to use as access to 5 acre property