WHILL Model F
Impressively light power wheelchair that folds easily and weighs less than 60 lbs.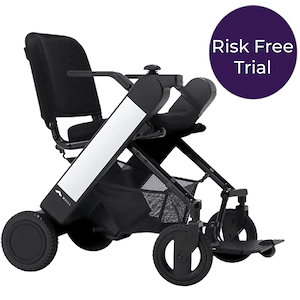 More Information on the WHILL Model F
BACK TO TOP
Reviews
Viewing 1 - 2 of 2
Very nice chair with substandard seat cushion.
10/29/2022
Strengths:
Light weight and folds to fit in smaller spaces. I like that the battery only weighs 7lbs and it still provides 12 miles on a charge. I also like that the battery can be easily swapped with a spare. This chair is a great fit for a person my size. Overall, I'm happy with this chair.
Weaknesses:
The seat cushion is absolutely worthless. The back of saddle ends too far forward and the cushion wraps around the back of it and dumps your but into the void between the back of the saddle and the bar across the back. Uncomfortable. If you buy this chair consider buying a better cushion along with it.
Reviewer:
mike s. from aztec, nm
User Details:
59-year-old male with HPP caused mobility issues. 5'9" 187#
Excellent portable chair for excursions.
07/02/2022
Strengths:
I love the phone app. After getting into the car, I "drive" it around to the trunk so my family member can load it.
Weaknesses:
First gear is slow.
Reviewer:
ilene w. from loveland, co
User Details:
I am 62 and after a stroke I walk unsteadily and use a wheelchair in public. I also cannot use one hand so an electronic chair is imperative.