Feather Chair
At just 13.5 lbs. with the rear wheels removed makes for this incredibly easy to transport wheelchair.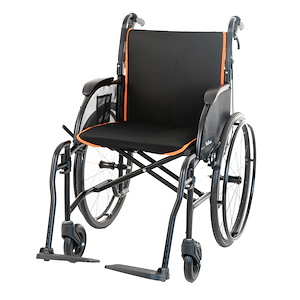 More Information on the Feather Chair
BACK TO TOP
Reviews
Viewing 1 - 12 of 14
07/21/2023
Strengths:
it's very light and the wheels come off easily
Weaknesses:
arm rests not movable and i didn't recieve the extra cushion i ordered and paid for
Reviewer:
les h. from coudersport, pa
User Details:
amputee with nerve damage
Lightweight and easy to handle
05/31/2023
Strengths:
the strengths are that it gives the caregiver the ease with its light weight and the person easier handling
Weaknesses:
I don't see any weakness
Reviewer:
richard p. from long beach, ny (caregiver)
User Details:
The user of this product will be someone who needs the lightweight and reliability to be able to travel with it
04/14/2023
Strengths:
Very Lightweight and attractive
Reviewer:
jack y. from henderson, nv
User Details:
77 year old man with minor mobility issues
Quality is poor. Handbrakes locked 3 times on the first day...
01/29/2023
Weaknesses:
Cheaply made. 
Reviewer:
karen r. from thibodaux, la (caregiver)
User Details:
Large male 32 years old. Can walk but not for long
09/21/2022
Strengths:
Light Compact Stylish
Reviewer:
eli s. from brooklyn, ny (caregiver)
User Details:
The best wheelchair I love it Its so light and so far so good had it for about a month I recommend it
08/19/2022
Weaknesses:
No seatbelt. I need one for descending steep wheelchair ramps.
Reviewer:
robert k. from san dimas, ca (caregiver)
User Details:
79 year old girl. Cannot walk without assistance.
08/12/2022
Reviewer:
thomas w. from cheektowaga, ny
User Details:
I am the user of the chair. I am 73 years old and have bad knees and can't be operated on because of a stroke.
07/29/2022
Strengths:
Weight and folding ability.
Reviewer:
joyce w. from cove, ut
User Details:
CVant walk wel, bad balance
Lightweight and great for caregivers.
07/29/2022
Strengths:
Lightweight and folds right.
Weaknesses:
Hard for user to turn wheels, does not "coast."
Reviewer:
anna m. from elizabeth city, nc
User Details:
It IS lightweight. Wheels are more difficult to move than my 3 previous wheelchairs. Takes me more effort to push by myself. Caregivers like it.
An excellent option for patient and caregiver.
07/16/2022
Strengths:
The hand brake is terrific. Pull like a traditional bike brake while walking OR push the brake lever down to park the chair. While the chair is for my mom, my dad benefits from the chair stability and brakes - it becomes a walking aid for him.
Weaknesses:
This chair was smaller than a standard chair but still fine for my mom. Cushions were not as robust as on the old Tracer 2 my mom had. My dad did know the parking brake until I showed him! The little yellow sticker on the brake is the main indicator.
Reviewer:
ewald v. from pittsburgh, pa (caregiver)
User Details:
Stroke 10 years ago left mom with a paralyzed left arm and leg
Sturdy, light weight, far superior to transport chairs we...
06/17/2022
Strengths:
construction, materials, light weight
Weaknesses:
None encountered so far. Cushion is a bit thin but we will just use an add on air cushion if needed.
Reviewer:
dennis t. from topeka, ks (caregiver)
User Details:
She has hereditary spastic paraparesis with progressive weakness and spasticity. Uses walker, cane, and AFOs at home. Needs help with distances.
04/14/2022
Reviewer:
gordon b. from boynton beach, fl (caregiver)
User Details:
broken kneecap plus neuromuscular problem