EW-75 Touring
This SpinLife Exclusive scooter goes up to 43 miles, with 4 wheel stability and top of the line electronics.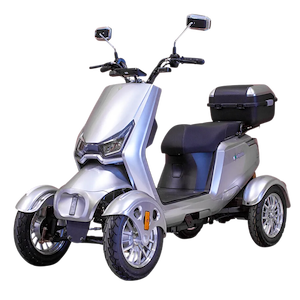 More Information on the EW-75 Touring
BACK TO TOP
Reviews
Viewing 1 - 7 of 7
Only if your looking for a mobility scooter that looks...
06/03/2023
Strengths:
I like the sporty look
Reviewer:
gregory g. from bradenton, fl
User Details:
Age 78, had back surgery 8 years ago and only continues to get worse. Wanted a mobility scooter to ride around my community.
04/21/2023
Strengths:
The scooter is easy to use. 15 mph is plenty fast enough. Nice storage space. I love this scooter. People stop me and admire it. It's fun to ride, and it's very easy to handle.
Weaknesses:
The product manual wasn't updated. It did not show the correct location and picture of the emergency break. There was directions on how to unlock and open the seat. This is where you locate the circuit breaker. You have to put the key in part way and turn it to the left. That pops it open. The battery charge indicator has 4 bars. I charge the battery, but it still only shows 3 bars.
Reviewer:
terri b. from elmira heights, ny
User Details:
I'm 58 years old. I have Macular Dystrophy, and I can no longer drive. This gives me back some freedom.
01/05/2023
Strengths:
battery very good
Reviewer:
john s. from allenhurst, ga
User Details:
Not provided
Wish it would go a little faster
07/15/2022
Reviewer:
ladislav l. from cleveland, oh
User Details:
Not provided
It is what it is and probably worth what I paid
06/02/2021
Strengths:
Length of time charge holds,top speed,hill climbing ability,good looks
Weaknesses:
Automatic braking is tricky.
Reviewer:
jeffrey d. from gardner, ma
User Details:
I am a 75 year old male who has very bad lungs. I use to walk miles a day I the local area and stop to visit with anyone that wanted to chat and you w
Exactly what I wanted and expected.
05/26/2021
Strengths:
Looks and performance
Weaknesses:
Operating instructions - nowhere in their instructions was there any mention of how to release the seat - even though the circuit breaker required to operate the scooter was under the seat
Reviewer:
john v. from carrollton, tx
User Details:
85 year old with a new toy to use in the neighborhood. Not needed for mobility, just for fun.
I feel so cool riding the EW75 !!!
05/21/2021
Strengths:
Lots of power !
Weaknesses:
Lots of power ?
Reviewer:
lorraine g. from rifle, co
User Details:
The EWheels EW75 was shipped full assembled, and charged. I love the new look of this scooter, and the extra power it has. Feel cool riding !!!