Elara PR-118 3-Position
3-Position Lift Chair with Adjustable Headrest in two sizes!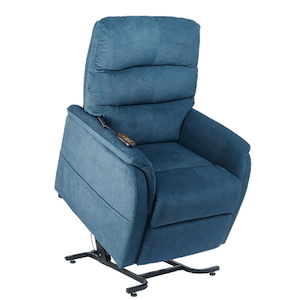 Golden Technologies
(Model No. PR-118)
VIEW ITEM
More Information on the Elara PR-118 3-Position
BACK TO TOP
Reviews
Viewing 1 - 4 of 4
Great chair to aid with sleeping and mobility.
07/13/2023
Strengths:
High Quality and ease of use.  Beautifully crafted and nicely upholstered. 
Weaknesses:
Chair has developed an annoying squeak toward the end of moving into the highest position.
Reviewer:
wayne w. from tallahassee, fl (caregiver)
User Details:
My wife who recently broke her right arm just below the shoulder (no cast).  This made it extremely difficult to get in and out of bed without chair. 
Exactly what my 5'3" mother wanted and needed.
10/13/2022
Strengths:
It's so comfortable and easy to adjust. My mother often sleeps in this chair. White glove delivery of this in-stock chair was so helpful.
Reviewer:
cheryl m. from ronoake, va (caregiver)
User Details:
Chair us for my 85 yr old mother, 5'3" and 180 lbs.
03/17/2022
Reviewer:
anthony m. from lansing, il (caregiver)
User Details:
Not provided
I enjoy using this chair.
05/09/2021
Strengths:
The construction of the chair.
Reviewer:
stephen p. from murrells inlet, sc
User Details:
I am a 80 year old retired person. I thoroughly enjoy the mobility of the chair.