Hybrid Select
All-In-One hybrid seating offers adjustable skin protection and optional offloading.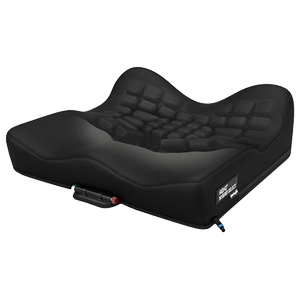 More Information on the Hybrid Select
BACK TO TOP
Reviews
Viewing 1 - 4 of 4
11/09/2023
Strengths:
Very comfortable 
Weaknesses:
Gets leaks every three months 
Reviewer:
alan c. from portland, or
User Details:
Not provided
Very comfortable and form fitting.
01/08/2023
Strengths:
The combination of firm cushions and air cushions and ability to use all three options on this cushion.
Weaknesses:
Access to the air lines
Reviewer:
dale w. from ephrata, wa
User Details:
Obese,chair bound 73yr old semi ambulatory, 
Your buttocks is missing out.
11/12/2022
Strengths:
The design and the material is top notch.
Weaknesses:
Fabric could be water resistant.
Reviewer:
victor s. from mcallen, tx
User Details:
Paraplegic user, that just discovered the hybrid select. Have had it 2 weeks now and can feel the difference. And I recommend it.
05/01/2022
Strengths:
The seating is comfortable, the three individual air bladders help as I sit deeper on the left side, so I can adjust support. Previously used Hybrid Elite for the past 10 years or so. This cushion is an improvement for me over the Elite.
Weaknesses:
I wish they made a heavier duty molded version.... it's very frustrating to get a "flat" on your cushion when you are not at home where you can swap to another.
Reviewer:
brian l. from phoenix, az
User Details:
Male, 65 years old, 200 lbs, been in a chair for 31 years.