EW 10 Sport
Sporty styling with up to 40 mile drive range and 400 lbs weight capacity.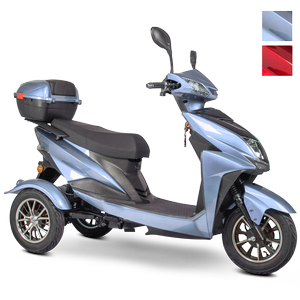 More Information on the EW 10 Sport
BACK TO TOP
Reviews
Viewing 1 - 12 of 13
09/23/2023
Strengths:
speed dependability durability
Reviewer:
james p. from copiague, ny
User Details:
I have cerebral palsy, helped me get to the local store in Copiage
I'm quite pleased with this scooter.
02/02/2023
Strengths:
Will take 2-up seating, good suspension, handles well, nice looking, sturdy.
Weaknesses:
Incredibly loud backup alarm. I'm going to have to find a way to mute it. The speed is decent, but if it would be capable of 25 mph, I could road-license it legally.
Reviewer:
william d. from pueblo west, co
User Details:
I'm about to turn 7 9, and live in a semi-rural large-lot town. I'm a disabled vet, and have difficulty walking any real distance.
Efficient, elegant ,nimble and 90 percent stable.
09/01/2022
Strengths:
Great for flat straight roads. Looks very stylish, the overall size of it.
Weaknesses:
turning stability easily goes off balance from the front.
Reviewer:
demetrio a. from mexicali, ca (caregiver)
User Details:
Young adult with MS very little respond from legs. He has to drag one leg to move around.All other motoring skill at about 90 percent efficient
easy to use and met my expectations
08/19/2022
Strengths:
The shocks are great for my back!
Weaknesses:
Entry threw doors!
Reviewer:
penny b. from chowchilla, ca
User Details:
I'm 67 handicapped and slow moving my scooter takes me around town just to get out of house! The seating id real nice easy to use machine!
08/11/2022
Strengths:
It's features.
Weaknesses:
It could go a little faster 18 to 20.
Reviewer:
lewis o. from wadsworth, oh
User Details:
74 YEARS YOUNG USES a cain enjoys riding the scooter.
Have so many people inquiring about this scooter.
07/29/2022
Strengths:
Stability, easy on and off, look, price, many people inquire about the scooter. Can you send me any printed info so I can hand out when people ask? I live in a 55 and over development and everyone loves the look of the scooter.
Weaknesses:
Back up horn too loud.
Reviewer:
ralph s. from brick, nj
User Details:
My wife uses the scooter each day to get her to our community pool so many people have stopped here and asking her about the scooter
07/03/2022
Strengths:
Looks really good. The ad pictures do not do the color justice (red)
Weaknesses:
None yet.The back up horn is a bit much.
Reviewer:
randy t. from stockton, ca
User Details:
I'm 71 and currently in a wheelchair after surgery. I was planning to get a EW10 before my surgery. I love it! Get a lot of compliments on my rides.
It fits my needs as a recreational scooter.
02/19/2022
Strengths:
Easy to get on, easy to start, and easy to operate.
Weaknesses:
Not sure this a weakness but don't like the loud beep beep back up noise. Please let me know if it is possible to lower or turn off...thanks.
Reviewer:
guy l. from baton rouge, la
User Details:
I am a healthy 76-year-old male. My wife and I live in a condominium area. I bought and am enjoying my EW10 scooter as a recreational get around.
11/05/2021
Strengths:
Mobility, getting where I need to go. Goes up hill's very well on gravel roads.
Weaknesses:
Only problem is that there's no trailer hitch, lol ????
Reviewer:
diana b. from saint james, mo
User Details:
I have MS and can't walk very well anyway more, so believe it or not this helps me get to my hunting spot very well, and everywhere else. Awesome !
06/10/2021
Reviewer:
floyd s. from lakeland, fl
User Details:
Age 85 IHE ew-10 is more then i expected Its one fine machine and I am externally happy with it. The price is right and performance is prefect.
I. Able to get around now, making me more independent. Have...
05/30/2021
Strengths:
It has literally everything you need or want. An alarm, emergency break. Very easy to handle. Anyone can learn to drive it. It can make you mobile in style!
Weaknesses:
The only thing I would recommend is putting in an electric step for those who cannot or have problems stepping up or on something that is more than 4 inches. I bought a step, but now I able to manage by myself. Really, I have no complaints. Thank you, thank you, thank you... Price was not unreasonable. I never thought I would be able to afford one of these untill I found your website! Did I say thank you?
Reviewer:
sherry f. from tampa, fl
User Details:
The first time I drove it, I felt unstable,like I was going to flip, but you get used to it real fast. It's fancy, it rides great. Love-it Thank you!
02/09/2021
Strengths:
The ease of riding it
Weaknesses:
Did not receive an owners manual. Please send me one
Reviewer:
nancy v. from new egypt, nj
User Details:
Sport and disabled