Afiscooter C
IN-STOCK and READY TO SHIP! 31 mile drive range, European engineering, and 2-year service included!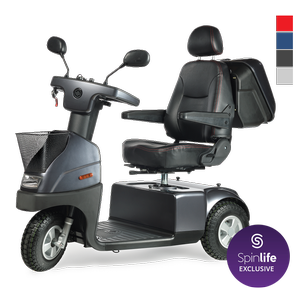 More Information on the Afiscooter C
BACK TO TOP
Reviews
Viewing 1 - 12 of 13
Best mobility scooter I've ever had and I've four before.
07/24/2022
Strengths:
Take bumps, broken streets, and hills in stride—smooth ride. Battery life is superb! No scooter I've owned could make it to and from my daughter's house. The C-3 has made the round trip six times and the hill six times without recharging.
Weaknesses:
I took it down the dirt running trail and got a flat tire from some weed thorns. I couldn't get the wheel off (no instructions). I'm handicapped, so pumping up the tire was a chore.
Reviewer:
john r. from fullerton, ca
User Details:
Not provided
So far I am happy with this product.
02/17/2022
Strengths:
speed, power, smooth ride, distance.
Weaknesses:
Security, cannot lock up or chain up the scooter outside.
Reviewer:
mike d. from new york, ny
User Details:
I am a 64 year old single male with spinal cord damage, I can not walk far or long, I need the scooter for outside walking.
05/26/2021
Weaknesses:
Needs to go faster
Reviewer:
mark a. from san angelo, tx
User Details:
I use the scooter all the time I go to Walmart which is 3 1/2 miles away now I go to my doctors which is 4 1/2 miles away he rides with smooth I enjoy
if you have any doubts about purchasing this scooter,Don't...
02/13/2021
Strengths:
easy to use even for a 91yr old
Weaknesses:
The seatbelt is to small.I'm not a big person and this is a very short seatbelt.That's why I gave the features a rating of 4.
Reviewer:
charles s. from carpinteria, ca
User Details:
I'm 91yrs old I use it to travel down town. It's a very nice scooter.
How much I love my afiscooter C2-3
08/26/2020
Strengths:
The shock and the air Tire, and how easy to ride it's also a beauty after this experience with the Afiscooter C2-3 I will never change to another scooter.
Weaknesses:
Till this day haven't seen a weaknesses on it just make your turn slowly and respect the traffic and the people in the side walk and your good. As long as you take care of it, it will take you Everywhere in a breeze I recommend it to everyone.
Reviewer:
ivan l. from manhattan, ny
User Details:
I'm a person with multiple injuries specially my spine. This scooter is the best for me since I'm always in pain I love this scooter so much.
Two Afiscooter- C scooters both arrived with damage in...
04/02/2019
Strengths:
Don't know, because I upgraded to the Afiscooter- S: Bigger, heavier and more expensive - but I'm very happy with this one.
Weaknesses:
? rough handling by their shipper ?
Reviewer:
paul c. from greenbrae, ca
User Details:
Local errands: grocery shopping, taking trash to the dumpster.
This scooter is terrific but takes a little getting used to.
09/08/2018
Strengths:
It is quick, sturdy, feels safe and is comfortable.
Reviewer:
dale l. from seaford, ny
User Details:
I am 69 years old and had my left hip removed due to an infection I received in a hospital.I cannot ambulate at all without a scooter or wheelchair.
01/01/2018
Strengths:
A very powerful power plant that you can feel on any hill or incline. I live in a town with lots of brick. the supendsun smooths it all out. Everything is made first class.
Weaknesses:
Be carful with the size. It is big
Reviewer:
charles l. from gulfport, fl
User Details:
Not provided
I am happy that I picked this machine.
07/01/2017
Strengths:
Motor has a ton of torque and pulls my 300 lbs easily.
Weaknesses:
The horn is a pipsqueak.
Reviewer:
gene d. from midway, ar
User Details:
I am a 78 year old male that weighs 300 lbs. and I have a bad back that precludes me from walking more than 20 yards without experiencing pain.
This scooter is actually fun to ride and meets all of my...
10/09/2015
Strengths:
The lighting system and the ease of operation.
Weaknesses:
The ability to turn a round or back up in a small area (turning radius).
Reviewer:
larry w. from owatonna, mn
User Details:
The person using this scooter is 68 years old and has trouble walking.
02/11/2015
Reviewer:
james s. from phoenix, az
User Details:
Physical disabilty
08/23/2014
Strengths:
Very smooth ride, very fast and small enough to get in the doors without having to install oversize doors.
Weaknesses:
The shroud that covers the batteries and wires could be smaller and sturdier or better yet not have one at all. I don't think this is a weekness juat a personal preference for not having a shroud at all. I like to be able to see all the functioning parts.
Reviewer:
brian w. from ferndale, wa
User Details:
Need this wheelchair/scooter for mobility