Afiscooter S
Loaded with luxury features, the perfect around-town scooter with range up to 37 miles.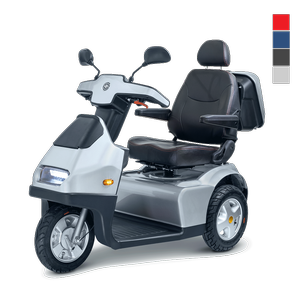 More Information on the Afiscooter S
BACK TO TOP
Reviews
Viewing 1 - 1 of 1
Motor sounds like it is straining at 10 MPHV lots of...
06/28/2023
Strengths:
Seats two, side by side, which was my only reason for choosing this scooter. Also, love the fact that it DOES NOT have that irritating backup alarm. Very stable because of the extra width and suspension system, larger wheels too. Nice wide seat. Quiet running (at lower speeds).
Weaknesses:
Motor is powerful, no doubt, when doing yard work. It has the power to traverse my bumpy, slightly hilly yard easily. But at top speed it screams like it really wants to go faster, but is limited, I guess by design. (15-17 MPH would suffice.) Also the steering can be ripped from your control if hitting an obstruction with one front wheel. A dampening mechanism would be much safer. Headlight is useless as it cannot be aimed higher. Weld on the right arm was improper, not allowing the arm to be raised high enough. I had to disassemble the arm and use a rat-tail file to file down the spot weld at the pivot. The front and rear locking compartments are not snug enough and rattle. As for the horn, WHAT HORN? Sounds like a microwave beep-beep telling you your food is done. The only reason for my purchase was the fact that it seats two, side-by-side, vs 3 others which had front-to-back seating. Also, at this price, a few bells and whistles (accessories) could have been added. That's why I gave an overall 3 rating of 5.
Reviewer:
frank u. from merritt island, fl
User Details:
Not provided