Atto Folding Scooter
Innovative European designed all-in-one folding scooter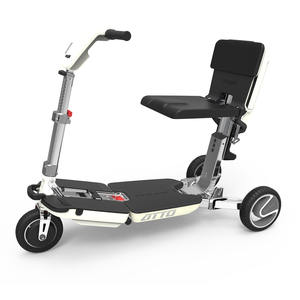 Moving Life
(Model No. AT01-100-B2-0)
VIEW ITEM
More Information on the Atto Folding Scooter
BACK TO TOP
Reviews
Viewing 1 - 6 of 6
Amazing Folding Portable Scooter!
01/11/2022
Strengths:
This folding scooter has allowed me to go to the doctor on my own. I unfold the scooter, and can go anywhere in a building. I can think about traveling with my family or visiting a museum. It has plenty of leg room. I am 5' 11" and it can be adjusted.
Weaknesses:
This baby is heavy! It is oddly shaped and will not lie flat. I use old pillows to keep it from shifting. It can be tricky to unfold the first time. It can be separated into two parts that are not as heavy. It has no key! You will need help to unload it.
Reviewer:
christopher m. from lexingtion, ky
User Details:
I am a physically disabled Deaf person who lost my sense of balance over 30 years ago. All of my joints are destroyed. I cannot walk far at all.
Atto Folding Scooter: Review
04/24/2021
Reviewer:
stephen m. from amherst, oh
User Details:
Not provided
02/14/2021
Strengths:
Quality of the ATTO is excellent. Fairly easy to fold and store.
Weaknesses:
Heavier than I expected. At 73 rather difficult for me to lift into my Kia Soul. Will leave another review once I use it traveling on an airline.
Reviewer:
roy t. from jacksonville, fl
User Details:
My main reason for purchase is for travel unfortunately due to COVID restrictions I haven't tried to fly with this Atto.
01/01/2021
Weaknesses:
Heavier than would be easily manageable. - SpinLife Response : Thank you for you comments we will pass along the weight concern to Atto.
Reviewer:
joan s. from mattapoisett, ma
User Details:
70 year old with COPD.
08/05/2020
Strengths:
Very compact. Well constructed. Easy to open and close once you learn the sequence after a few times.
Weaknesses:
No ignition switch to lock unit when temporarily left idle.
Reviewer:
paul christian s. from kailua, hi
User Details:
I am 72 and have difficulty walking long distances.
Atto performs as advertised
07/11/2020
Strengths:
Folding into two manageable parts
Weaknesses:
When shopping you cannot carry as many items as you want to.
Reviewer:
jerry r. from orlando, fl
User Details:
73 year old man. With diabetic neuropathy in feet and legs. The Atto let's get out of the house and do many things for myself without pain.