BAM-Supreme Electric Bike
Conquer most terrains with the feature packed BAM-Supreme!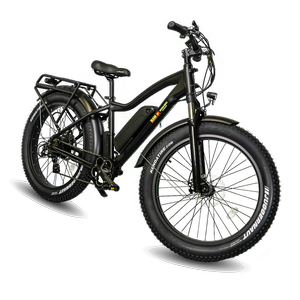 More Information on the BAM-Supreme Electric Bike
BACK TO TOP
Reviews
Viewing 1 - 3 of 3
Everything works as stated
02/13/2021
Strengths:
Everything seems to be well made.
Weaknesses:
When I ordered the bike, I was told by two reps. The bike came completely assembled. That was not true. The buyer must but pedals, front wheel, handle bars and seat on before riding. Very disappointed with false information given me.
Reviewer:
wallace p. from gainesville, ga
User Details:
I am a healthy 78 year old male. I do have diabetes but manage to keep it under control. I hope the bike will aid in that process.
I would but one of the 2 bikes we ordered came damaged in...
09/04/2020
Strengths:
Ease of maneuvering and battery life
Weaknesses:
Came damaged during shipping and it's been a struggle to get the parts. Only one of the 2 bikes we received is operational at this point. Very frustrating.
Reviewer:
norman d. from tbd, mi
User Details:
We utilize the bikes as a means of transportation around the very hilly Mackinac Island.
what a kick when you hit the throttle.
05/12/2020
Strengths:
seems well built
Weaknesses:
i am a small person. this is all the bike i can handle.
Reviewer:
steve r. from northglenn, co
User Details:
65 years old male,just retired.this should be fun!
Popular Related Products