Buzzaround LX 3-Wheel
The Buzzaround LX combines the convenience of a travel scooter with the comfort of a full-size scooter.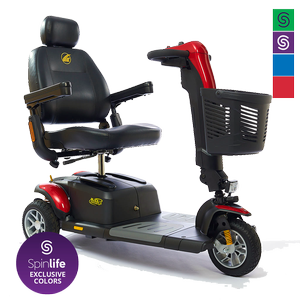 Golden Technologies
(Model No. GB119A)
VIEW ITEM
More Information on the Buzzaround LX 3-Wheel
BACK TO TOP
Reviews
Viewing 1 - 11 of 11
Exceptional scooter, great value for the money
05/05/2023
Strengths:
This scooter is longer, wider and bulkier than those I've had before, but. I Love almost everything about it. The modern design, the batteries last for days on a full charge, plenty of power, superb clearance (specially for higher thresholds), sleek and adjustable steering column, intuitive controls and the captains chair with headrest is by far way more comfortable than any of those low-back chairs on other scooters, allowing me to sit comfortably for longer periods of time. The basket in front is large/deep and holds everything I need to carry around with me. The foot platform is large and wide, allowing me to carry several grocery bags easily while still having plenty of room for my feet. The drive levers are wonderfully functional, the built in curve for fingers for a pull down motion is intuitive. I'd say the single most awesome feature, being the main reason I opted for this model, is the SUSPENSION! I Love the smooth ride! Anyone who's had a scooter without suspension knows what a torture that is, going over even the slightest floor blemish, extension cords, thresholds, etc. will cause jarring and uncomfortable jolts to the back.
Weaknesses:
HOWEVER, I believe it also has an inherent design flaw: At the front of the platform it has these 2 squarish like "wings" (part of the platform) that stick out to the sides of the front wheel. I'm guessing this might be to either protect the front wheel or something to that effect, but whoever designed it has no clue or never used a scooter because in reality they are totally useless and a major problem when trying to maneuver/turn through tight doorways, around corners, turning near furniture, etc. They will scrape anything in the way and I've left scratch marks, dents and holes on many doors, door jambs, walls and furniture because of them. I'd cut them off if they weren't part of the frame.
Reviewer:
jurgen s. from asheville, nc
User Details:
Being a paraplegic I use this scooter full-time for mobility (in lieu of a wheelchair), primarily inside but also outside/around my house.
01/26/2023
Strengths:
Comfortable seat. Suspension. Easy tiller adjustment.  I spent 4 days traveling all over Disneyland over all kinds of surfaces much more comfortably than in my previous 3 wheel travel scooter. 
Weaknesses:
The weight, for us, required a travel lift. Also the turning radius is not as tight as the Pride Go-Go travel scooter. 
Reviewer:
peggy l. from castro valley, ca
User Details:
74 years old. Spinal cord damage, partial paralysis. 
11/24/2022
Reviewer:
david b. from oakdale, ca
User Details:
Not provided
07/14/2022
Strengths:
The ability to go longer through out the day. I just feel the power and strength it gives, through out the day.
Weaknesses:
Having to charge the batteries by having to purchase a separate docking platform.
Reviewer:
robyn n. from la verne, ca
User Details:
62 year old female, with limited walking abilities.
06/10/2021
Strengths:
It's all right
Weaknesses:
It is ruff riding when you are on ruff road and a noisy It bounces
Reviewer:
david y. from umatilla, or
User Details:
Not provided
05/19/2021
Strengths:
Portability, speed
Weaknesses:
individual pieces weigh a great deal
Reviewer:
chuck w. from manlius, ny
User Details:
I am disabled and cannot walk long distances. The scooter allows me to move around and do things that I would otherwise be unable to do.
03/26/2021
Strengths:
Comfortable, easy to use.
Reviewer:
dorothy t. from melbourne, fl
User Details:
72 year old female, limited mobility.
07/12/2020
Strengths:
Good speed, easy to operate.
Weaknesses:
Needs more leg room. Unhappy with extended large seat in that seat cover will not stay on. My husband is tall and feels cramped between steering handle and seat.
Reviewer:
nancy h. from geneva, il (caregiver)
User Details:
My husband has Parkinson's for 24 years and is now unable to walk unaided very far. We bought this for use outside. We have the three wheeled model.
02/13/2020
Reviewer:
aveneesh m. from columbus, oh
User Details:
Not provided
Awesome scooter and true XL scooter!
09/29/2019
Strengths:
Easy to operate with great turning span. Very adjustable and comfy. Great torque and speed control. Nice to have the suspension!
Reviewer:
nick s. from tahlequah, ok
User Details:
I am lg framed man with long legs as well.I did alot of research before buying this scooter. This is a great scooter! It runs smooth and runs fast!
This scooter checked off all wish list requirements we were...
09/19/2019
Strengths:
It is easy to assemble/disassemble. The suspension makes for a smooth ride on uneven surfaces. The high back offers better support. It can go 18 miles on a single charge (although we haven't used it for such a long period in a single use yet to try).
Weaknesses:
While it breaks down in multiple pieces, some are still quite a bit heavy.
Reviewer:
melissa r. from millheim, pa (caregiver)
User Details:
My husband has some permanent spinal cord damage making walking or standing for long periods very difficult.