Jazzy Select
A compact chair with built in suspension and a tight turning radius!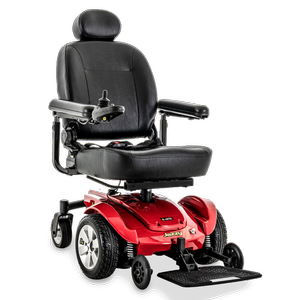 More Information on the Jazzy Select
BACK TO TOP
Reviews
Viewing 1 - 3 of 3
06/25/2023
Strengths:
Jazzy is the chair for people who need to get around an dont have fear of tiping that is I feeling it safe
Weaknesses:
I can't see any weakness about this chair every body should have jazzy its safe and u can get around in small places I love my chair
Reviewer:
vickie p. from toledo, ia
User Details:
My name is Vickie 1i picked this jazzy because of its extra wheeles because it won't tip like others I have rehemathiord an this chair is comfortable
This is my 2nd Jazzy chair. That says it all.
07/31/2020
Strengths:
Very solid, dependable chair. Works extremely well in tight places. Prior Jazzy (same model) lasted over 12 yrs with no repairs and only 1 battery replacement.
Weaknesses:
My prior Jazzy (same model) had a different foot plate. The new plate is too large and very difficult to lower. It hits the back of my legs as it extends several inches out too far.
Reviewer:
chris d. from issaquah, wa
User Details:
68 yr old woman with degenerative arthritis. Walking is difficult following bilateral hip and knee replacements and total fusion of both ankles.
08/19/2019
Weaknesses:
The outer edge of the footrest should be padded.
Reviewer:
ed l. from tbd, ma (caregiver)
User Details:
94 year old with limited mobility