M39 Travel Scooter
A compact travel scooter with lighting and standard larger batteries for longer trips.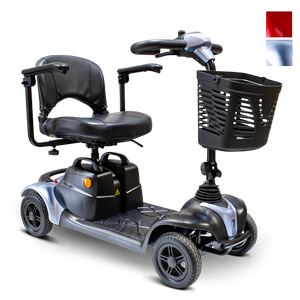 More Information on the M39 Travel Scooter
BACK TO TOP
Reviews
Viewing 1 - 5 of 5
wished we would have gotten fold up ones
03/02/2021
Strengths:
ride very nice easy to stir
Weaknesses:
heavy for us to pick them up and put in and out of our,SUV We keep the batteries in our house and keep them plug on
Reviewer:
charlene l. from tucson, az
User Details:
Iam 78 my husband is 84 We like the scotters,except they are Alittle heavy for us to pick up the batteries are also heavy for us ,as well
Great scooter for the money
09/08/2020
Strengths:
Good speed for the size of this scooter
Weaknesses:
Turning radius could be better
Reviewer:
carlos c. from pueblo, co
User Details:
Not provided
01/16/2020
Strengths:
The rotating seat makes it easy to go to restaurants, and the back support helps my back.
Weaknesses:
I cannot reach the charger and need my neighbor to come over every few days to plug it in for me. Should be in a more convenient place.
Reviewer:
connie c. from menifee, ca
User Details:
Connie .age 75 , temp. Loss of legs.
M39 Travel Scooter: Review
09/07/2019
Strengths:
easy to take seat and battery box off and fits in the back of my rav4
Weaknesses:
the seat does not have a forward or back adjustment
Reviewer:
thomas l. from ocoee, fl (caregiver)
User Details:
my wife who has parkinsons disease
finally has mobility again
09/02/2019
Strengths:
convenience of use and we can take it apart to fit into the car
Weaknesses:
the back of the seat is low. It becomes uncomfortable when sitting for long periods of time.
Reviewer:
sharon b. from benton city, wa (caregiver)
User Details:
Husband who has severe back and balance problems