FlexTilt Tilt-In-Space Chair
Innovative tilt-in-space chair with infinite positioning, and pressure relief.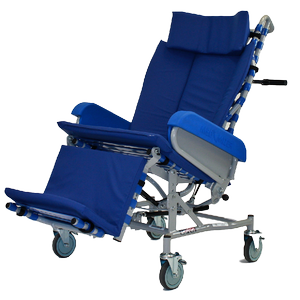 More Information on the FlexTilt Tilt-In-Space Chair
BACK TO TOP
Reviews
Viewing 1 - 4 of 4
08/04/2023
Reviewer:
burnell l. from hanover, pa (caregiver)
User Details:
My father-in-law is 96 and unable to walk but enjoys engaging in conversations and being around others in his nursing home. 
The chair gives him the ability to join others at the...
09/07/2022
Strengths:
It is very durable, strong enough he does not feel afraid to move about.
Weaknesses:
So far he has not found any weaknesses.
Reviewer:
eva d. from lufkin, tx (caregiver)
User Details:
My brother is 66 years old. He can not walk and both his arms are stiff. He is bed ridden for the most part and can not feed himself.
FlexTilt Tilt-In-Space Chair: Review
07/24/2021
Strengths:
the leg rest the curve feature to support the upper shoulders the material use is not ridge and easy on a patient skin
Weaknesses:
none at the moment
Reviewer:
reina f. from los angeles, ca
User Details:
Not provided
Comfortable chair needs monitoring with dementia patients
06/13/2020
Strengths:
Quality, comfort, ease of use, easy to clean
Weaknesses:
Person with dementia can get out, foot rest can drag the floor when extended to fit user, brakes still allow chair to move
Reviewer:
dawn m. from maumee, oh (caregiver)
User Details:
I purchased this for my husband. The chair is very comfortable and easy to use. Be careful though- my husband has dementia and can get out! Monitor!!!