VivaLift! Escape 990i
Designed to mirror the best selling 525i, with the upgraded features of the VivaLift!® line!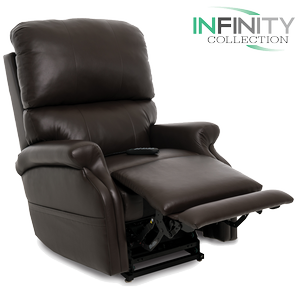 More Information on the VivaLift! Escape 990i
BACK TO TOP
Reviews
Viewing 1 - 12 of 13
Looks modern and functions well
09/06/2023
Strengths:
Multi position for comfort footrest
Weaknesses:
Slow on returning down
Reviewer:
aubrey r. from redmond, wa
User Details:
Female Age 67 Parkinson disease
Problem with covering between lower leg pad covering and...
05/18/2023
Reviewer:
robert s. from council bluffs, ia
Chairs is to large seat back headrest above head
03/26/2023
Strengths:
Well made for a taller person but size was something your people should have done I needed a 22 inch wide chair  and one to fit 5 feet 11 inches tall
Weaknesses:
Seat back does not fit and leather is very slick you slide getting in and out
Reviewer:
bobby m. from mc calla, al
User Details:
Hip problems
This chair does not provide the Trendelenberg slanting...
02/24/2023
Strengths:
It has to be assisted with other cushions..
Weaknesses:
The 990i does not provide what it is advertised to do in diagrams in Spin Life catalogs and on line. I purchased this chair for my health because it was to have the Trendelenberg position as shown in your diagram silhouettes slanting continuously from raised feet down to heart level. BUT this chair BENDS DOWN at the legs making my needed legs circulation impossible. Spin Life is misrepresenting and practicing false advertising and not helpful to me. I have sent a photograph of the chair in its most extended position to Spin Life customer service showing what I have described. but they say that is the way it is with no attempt to examine the chair and perhaps correct it.. Otherwise, regretfully, I may approach the BBB or my Credit Card company because of false advertising.
Reviewer:
don m. from leonia, nj
User Details:
age 94..physically limited..fluid in legs a problem...tire easily
03/25/2022
Strengths:
Ease of use very easy to get comfortable in with all the different settings.
Weaknesses:
Only available in leather. When in the full lift position it is a little bit slippery. Wish it was avaliable in cloth
Reviewer:
richard c. from weslaco, tx (caregiver)
User Details:
This chair was a Christmas present forRichard but by the time the chair arrived was in the hospital and he passed away he never got to see or sit in
01/10/2022
Strengths:
The lift feature and head adjustment
Reviewer:
marsha r. from roseville, ca
User Details:
78 year old male and female. Male has Parkinson's
Great product. Made Well. Received ahead of initial...
06/18/2021
Strengths:
Easy to use. Many positions you can put it into.
Weaknesses:
Can't think of any.
Reviewer:
michael b. from papillion, ne
User Details:
Male. 375lbs. Rotator Cuff Surgery Recovery.
Comfortable enough to sleep in!
05/24/2020
Strengths:
Adjustable lumbar and headrest features.
Reviewer:
sean l. from newhall, ca (caregiver)
User Details:
77 year old woman with mixed connective tissue disorder.
02/14/2020
Strengths:
As advertised.
Reviewer:
herb r. from sammamish, wa
User Details:
wheelchair bound paraplegic
Sitting in the chair is very comfortable.
02/07/2020
Strengths:
The overall comfort of the chair.
Weaknesses:
I wish the foot rest would rise a bit more.
Reviewer:
loretta o. from odessa, tx
User Details:
I like the chair real well except for the foot rest it would be a perfect chain if the foot rest would elevate just little bit higher.
08/06/2019
Strengths:
It really helps my legs due to MS.
Reviewer:
lisa t. from yulee, fl
User Details:
Not provided
The multiple positions make it comfortable
06/07/2019
Strengths:
Ease of operation of controller to control the chair.
Weaknesses:
The headrest can only be adjusted forward but it needs to be positioned more toward the back of the chair. I need to use a pillow behind my back so that my head is in the correct position against the headrest.
Reviewer:
brian g. from pembrook pines, fl
User Details:
Male age 72 with some physical disabilities.
Popular Related Products