Ashton PR-458 Luxe Edition
The Luxe PR-458 offers a classic style and SpinLife exclusive fabrics!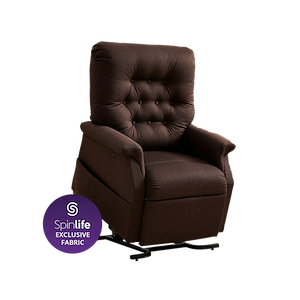 Golden Technologies
(Model No. PR458LUXE)
VIEW ITEM
More Information on the Ashton PR-458 Luxe Edition
BACK TO TOP
Reviews
Viewing 1 - 12 of 30
06/22/2023
Strengths:
It's. Beautiful. Simple to use. Fits me perfectly
Weaknesses:
There are none
Reviewer:
shirley h. from starr, sc
User Details:
I am very pleased with my chair. It is very beautiful. It fits me perfectly.
05/28/2023
Strengths:
Comfort and stability  Not overly large
Weaknesses:
I feel like it takes to long to lower the chair so I'm can get up to answer the door or get to the phone 
Reviewer:
patricia l. from north port, fl (caregiver)
User Details:
We bought two of these chairs so we had a matching set in our living room.  My husband was having difficulty getting up from our lounge chairs   
Best purchase so far this year!
03/19/2023
Strengths:
It is well made, the ease of use and comfort.
Weaknesses:
So far have not found one.
Reviewer:
charlene h. from lowell, in (caregiver)
User Details:
My 92 year old mother with chronic vertigo is the user of this chair.  It is simple to use and comfortable, she loves it.
I have a mixed review of it.
02/09/2023
Strengths:
The mechanism works well. The seat sits up higher even without the lift so I can get up and down without using the whole lift capability.
Weaknesses:
The fabric is horrendous, It attracts every lint particle and it is difficult to remove. I have to work harder to vacuum the lint or any crumbs off of it, This I really hate about it. Not sure how to fix this/ I wonder if I would spray a fabric protectant if that would help. The mechanism works but it works so slowly. I wish it also had a manual option to it.
Reviewer:
douglas e. from centerville, in
User Details:
I have psoriatic arthritis so I thought this chair might ease the joint pain.
Pretty, very sturdy and mechanism is smooth price and...
01/11/2023
Weaknesses:
Unknown at this time
Reviewer:
joseph y. from grain valley, mo
User Details:
77yr woman. 
High quality and amazing value.
11/13/2022
Strengths:
This chair offers an amazing user experience for the price. Feels extremely sturdy, has a battery backup for power interruptions (2 9 Volts), and has a simple light up control with USB in the top. I can confirm this will change a phone.  The whole chair is well made and does not feel off balance when in lift or recline position. 
Weaknesses:
Slightly too tall for me as 5' 2" individual when in neutral seated position without shoes. Nothing too unmanageable though. 
Reviewer:
colleen b. from fort covington, ny
User Details:
33 year old with physical disability. Looking for chair to help with balance and ambulation. 
09/15/2022
Reviewer:
david s. from ligonier, in
User Details:
Not provided
02/04/2022
Strengths:
performs as expected
Weaknesses:
no weaknesses discovered White Glove delivery was needed and was excellent.
Reviewer:
david j. from fayetteville, ga
User Details:
Male, Age 83, hemiplegic
01/08/2022
Strengths:
Easily sitting and getting up
Reviewer:
laura g. from newbury park, ca
User Details:
My husband is a 90 year old man who has a problem walking. He loves this chair.
08/08/2021
Strengths:
It is firm and I feel very secure in it
Reviewer:
coleen p. from river falls, wi
User Details:
Not provided
Ashton PR-458 Luxe Edition: Review
06/28/2021
Strengths:
The reasonable price for the quality and comfort
Weaknesses:
it is noisy with reclining
Reviewer:
sabah a. from encinitas, ca (caregiver)
User Details:
86 years old with Parkinson's and limited mobility
Ashton PR-458 Luxe Edition: Review
06/24/2021
Strengths:
Basic but effective and easy for elderly to operate
Reviewer:
laura s. from lebanon, or (caregiver)
User Details:
I bought this chair four Mother's who lives in assisted living. She absolutely loves it. SHe says it does everything that she needs
Popular Related Products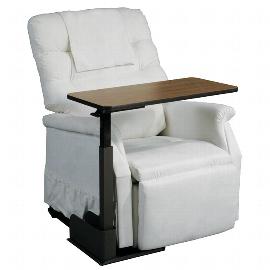 Lift Chair Table