Protekt Footrest Extender/Legrest Pad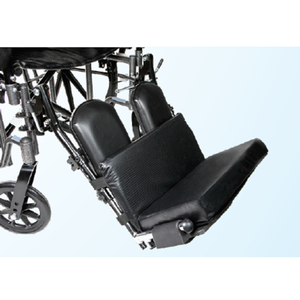 Proactive Medical
(Model No. 4700X)
VIEW ITEM
More Information on the Protekt Footrest Extender/Legrest Pad
BACK TO TOP
Reviews
Viewing 1 - 3 of 3
Really helps to keep feet level and not slide off the...
02/09/2023
Strengths:
it's all one piece versus the pedals which are two separate ones with an opening in the middle
Weaknesses:
having to reattach the pedals every time you use the chair
Reviewer:
carolyn b. from delavan, wi (caregiver)
User Details:
My husband does not walk and is confined to a wheelchair.
03/31/2022
Strengths:
I purchased the 2" pad so it would be stronger to hold his feet.
Weaknesses:
Attaching it is awkward and requires someone to kneel down to fasten it behind the pedals. Very difficult for an older person such as myself.
Reviewer:
charles e m. from terrehaute, in (caregiver)
User Details:
My 79 year old husband uses the product.
Very helpful to protect the user's skin.
10/07/2019
Strengths:
Protects skin and keeps feet from falling off wheelchair foot rests.
Reviewer:
nikki s. from lawton, ok (caregiver)
User Details:
The wheelchair leg/footrest is for mother who is wheelchair bound and takes blood-thinners. This item helps protect her fragile skin.